Today marks four years of being married to this guy. I can't even believe it. The first year of our marriage I'd wake up in the mornings, still amazed that this was real life, and we were married. I'd giggle and hug him, relieved that he didn't have to go home at night anymore. It's been four years, and I still catch myself thinking those same things.
In four years we've moved four times, bought a house, ended up with four dogs, gone through eight jobs between the two of us (including our jobs now), opened a photography business, rocked that business, then closed it, opened two etsy shops, K (the husband) has expanded his handyman skills, I've developed a love, and probably more like an obsession, for cranberries. We've fought more than we ever thought possible, and very much disliked each other, as well as fallen more in love than we thought possible, and learned just how much work a marriage is.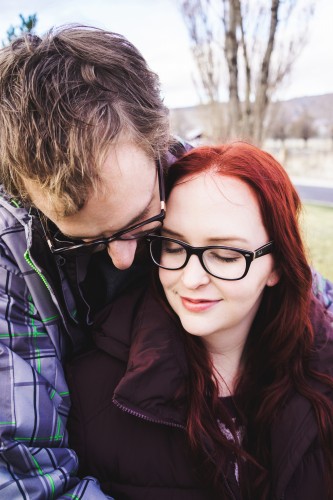 In four years I've started to really see the man I married. I, of course, was in love with him when we said our "I do's", and I was confident I knew everything about him. How naive I was. I've seen how gentle he is, how loving, I've seen how much he adores me, and how willing he is to do whatever is needed to make us work. I've watched him fail and watched him succeed, learn so many new things, bring fur babies into our lives, and tackle each new obstacle without complaint.
We've learned how to put each other first, and the importance of it, what love languages the other has, what sacrifice and compromise really is, and we've learned how to love. I don't think either of us really knew how to truly love someone before, but we're getting there.
I can't say that we've been through it all – we have our whole lives ahead of us, but we've been through enough to know that together is exactly how we want to spend the rest of our lives.
Happy anniversary babe, here's to many more.
Love you.