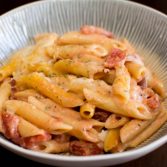 Baked Ziti
My friend brought us this amazing dish right after we brought our kids, D & T, home, and it was beyond delicious. Before she'd even made it home I think I texted her asking for the recipe, and it's now one of our favorites to make. It is so, so tasty, fast, and reheats well. I've been taking it for work lunches and even after 3 days I'm not sick of it. It goes great with a side of green beans, salad, and a roll!
Ingredients
2 tsp. olive oil
6 garlic cloves, minced
pinch of red pepper flakes (more if you want more kick)
2 (14 oz) cans diced tomatoes with basil and oregano
3 cups water
16 oz penne pasta
1/2 cup heavy cream
1/2 cup grated Parmesan cheese
1 cup grated Mozzarella cheese
Instructions
1
Saute the oil, garlic, and red pepper flakes using a large, oven-safe skillet over medium-high heat, for about 2 minutes.
2
Add in the canned tomatoes, water, and penne. Cover and cook over medium heat, stirring often so the pasta doesn't stick to the bottom of the pan. Cook until the penne is almost tender, about 15-18 min. Stir in the heavy cream and parmesan.
3
If you do not have an oven-safe skillet, put the pasta mixture into a 2-quart casserole dish before sprinkling with the cheese and baking. Sprinkle mozzarella evenly over the pasta. Place skillet in the oven and bake until cheese has melted and browned, about 10 minutes. Enjoy!
4
Recipe by: https://www.skiptomylou.org/skillet-ziti-recipe-quick-easy-meal/
OurKindofWonderful