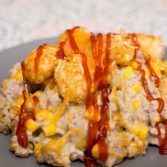 Cowboy Casserole, AKA Looks Like Puke But is Actually Really Good Casserole
So, there's no nice way to put it, this casserole looks like puke. Like, it looks nassstttyyyy, but, don't let looks deceive you, and just be brave for a minute and try it. This casserole is actually really good! It's nothing fancy, and I wouldn't want to have it every day, but I'm crazy picky. You and the kids will all enjoy it. It reheats well, you can put ketchup on it, salsa, whatever you want. Plus, it's sooo simple.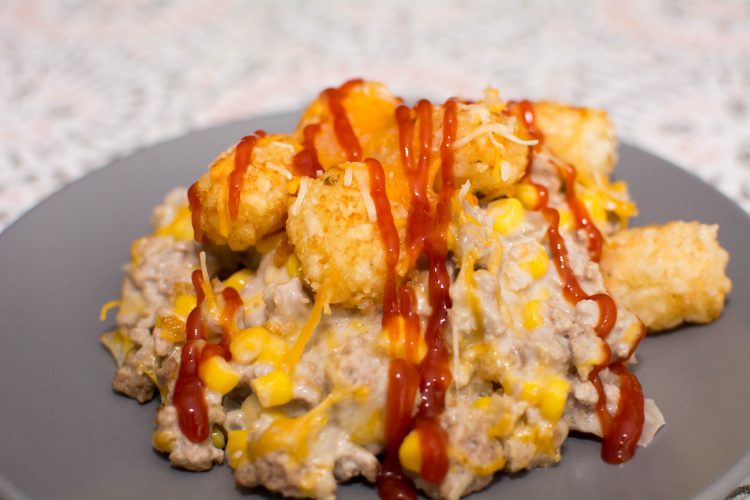 Ingredients
1.5 lb ground turkey burger
1 medium onion, chopped
1/2 tsp. minced garlic
1 can (15.25 oz) corn, drained
1 can condensed cream of mushroom soup
2 cups cheddar cheese, shredded
1/2 cup milk
4 Tbsp. sour cream
1 bag (30 oz) frozen tater tots, more if you want
Instructions
1
Get your tater tots out first thing so they can defrost a bit.
2
Preheat the oven to 350 degrees.
3
In a large skillet cook the onion until tender, then add the garlic and turkey burger, and cook until the turkey burger is no longer pink.
4
In a medium bowl combing the soup, milk, and sour cream. Whisk until smooth, then add in the hamburger mixture, corn, and 1 cup of cheese. Stir to combine.
5
Grease a 9x13 baking dish. Put half of the tater tots on the bottom, then pour the hamburger mixture over the top of them. Put the other half of the tater tots on the top, then sprinkle with remaining 1 cup of cheese and bake at 350 for 25-30 min.
OurKindofWonderful