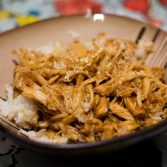 Crockpot Teriyaki Chicken
Teriyaki chicken is one of the recipes that it seems like everyone loves. But, finding one that hits the spot isn't easy, or maybe I'm just super picky. But this, this one hits the spot :].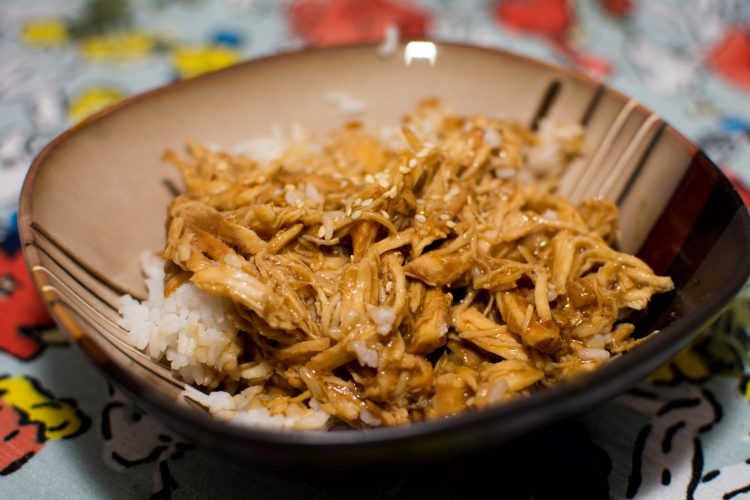 Ingredients
2 lbs. boneless, skinless, chicken breasts
1/2 cup soy sauce
1/2 cup honey
1/4 cup rice wine vinegar
1/4 cup onion, chopped
2 cloves garlic, minced
1/4 tsp. pepper
3/4 tsp. ground ginger
1/4+ cup water
3 Tbsp. cornstarch
sesame seeds, for garnish
Instructions
1
Grab your crock pot and layer the chicken in the bottom of it. In a small bowl whisk together the soy sauce, honey, rice wine vinegar, onion, garlic, pepper and ginger. Pour the mixture over the chicken breasts.
2
Cook on high for 3-4 hours or low for 4-5 or until the chicken is cooked through and it shreds easily. Once the chicken is cooked, shred it.
3
Pour the sauce into a medium sauce pan. In a small bowl, whisk together the water and cornstarch, then slowly whisk into the sauce on medium high heat. Continue to whisk and let it boil until the honey teriyaki sauce starts to thicken. About 2 minutes.
4
Pour over the chicken, and serve over rice. Garnish with sesame seeds, if desired.
OurKindofWonderful