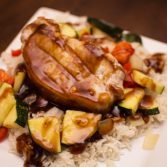 Grilled Hawaiian Pork Chops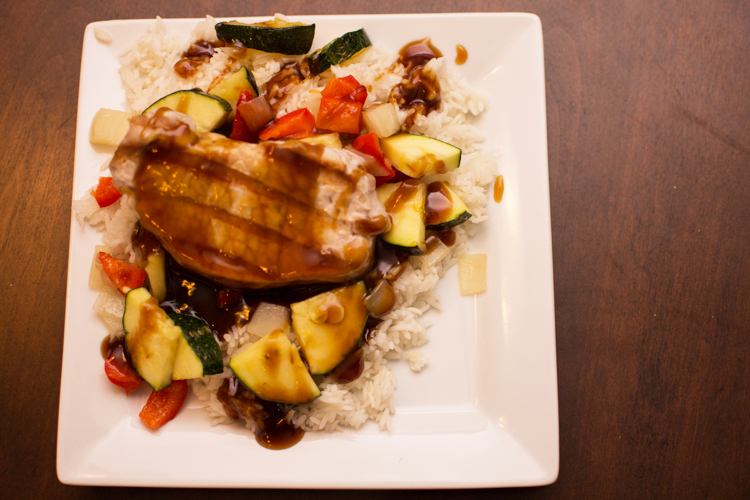 I am usually not a fan of pork, and rarely ever cook it because, well, it's pork. It is so good, we both loved it! I used a large zucchini, not a small one, so there were more vegetables than the recipe called for, but it made it that much better! It's served over rice, and we drizzled some of the Hawaiian sauce onto the rice and whalah, a delicious meal!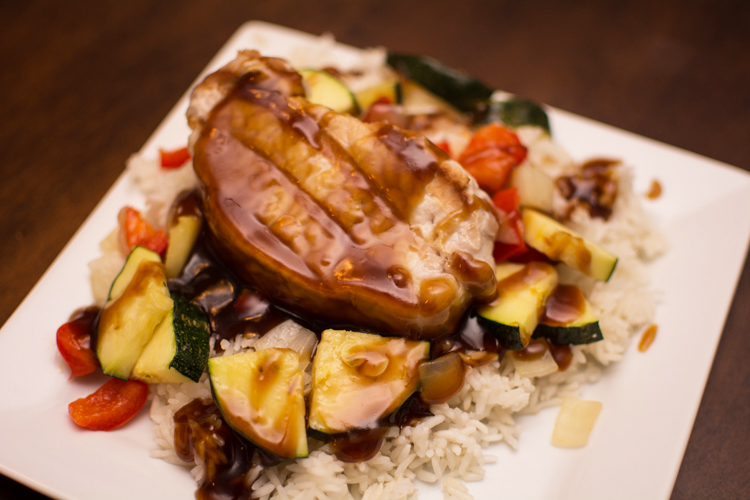 Ingredients
--Sauce--
6 oz pineapple juice
1/3 cup soy sauce
1/3 cup rice wine vinegar
2/3 cup brown sugar
1/4 cup + 2 Tbsp. water
2 1/2 Tbsp. corn starch
--Meat & Veggies--
4 boneless pork chops, center cut
1 yellow onion
1 red pepper
1 small zucchini
olive oil
salt and pepper
tin foil
Instructions
1
Place all sauce ingredients into a medium sized sauce pan and stir well. Bring the mixture to a boil over medium heat. It will thicken as it boils. Remove it from the heat and set it aside.
2
Take two large pieces of tin foil and lay one on top of the other, in a plus sign shape.
3
Fold the foil up into a little bowl shape, with a flat center and sides that come up about 2 inches.
4
Chop your vegetables into small chunks, and place them in your tinfoil bowl.
5
Lay some tinfoil out on the grill and carefully pour some olive oil onto the foil.
6
Pour some olive oil onto your vegetables as well.
7
Lay your chops onto the olive oil and lightly sprinkle with salt and pepper. Turn the grill to medium high heat, and close the lid.
8
Turn your chops over when the underside is nice and golden brown and the pink is beginning to disappear from the top.
9
Pour some of the sauce over the veggies and then drizzle some over your meat. Let the meat cook through and veggies become crisp tender. Remove them from the grill and allow the meat to sit for 5 minutes before you cut into it. Serve over rice.
OurKindofWonderful