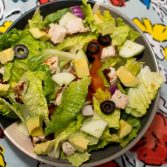 Grilled Lemon Herb Mediterranean Chicken Salad
We've been trying to have salads and veggies more in general, just to be a bit healthier, and it's actually turning out really well. We both love having salads more, and not the same salad every time, which is what we were doing. And, I'm pretty much only a fruit salad lover, so it's been a big adjustment for me. This salad is so tasty, and the chicken marinade could be used in other meals – I love how versatile it is! Definitely a must try.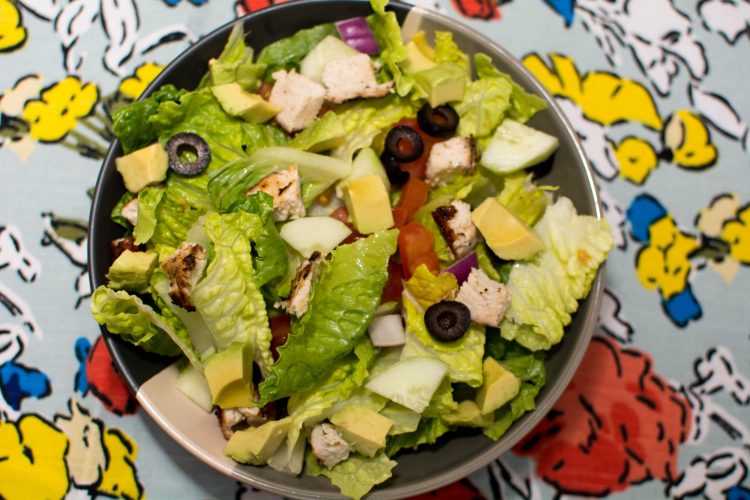 Ingredients
--Marinade/Dressing--
2 Tbsp. olive oil
1/4 cup lemon juice
2 Tbsp. water
2 Tbsp. red wine vinegar
2 Tbsp. chopped parsley
2 tsp. dried basil
2 tsp. minced garlic
1 tsp. dried oregano
1 tsp. salt
pepper, to taste
2 boneless, skinless, chicken breasts (tenderized)
--Salad--
4 cups romaine lettuce leaves
2 large cucumbers, diced
2 roma tomatoes, diced
1 red onion, sliced
1 avocado, sliced
1/3 cup olives
lemon wedges, for serving
Instructions
1
Whisk together all of the marinade/dressing ingredients in a large bowl. Separate the dressing, putting half into a shallow dish, and refrigerating the other half to use as a dressing for your salad later.
2
Add the chicken to the marinade in the bowl; marinade chicken for 15-30 minutes, or up to 2 hours. While waiting for the chicken, prepare all of the salad ingredients and mix in a large salad bowl.
3
Once chicken is ready, heat 1 tablespoon of oil in a pan over medium-high heat. Grill chicken on both sides until browned and completely cooked through.
4
Allow chicken to rest for a few minutes, then slice and arrange over salad. Drizzle salad with the remaining dressing. Serve with lemon wedges if desired.
OurKindofWonderful