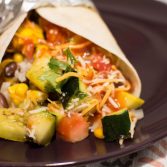 Grilled Veggie Burritos with Corn Salsa
With the weather getting better we have loved starting to bust out the grill again. We, being K. I love grilled food, but honestly don't know how to use one, which we'll be remedying this summer. We had these grilled veggie burritos with corn salsa, and they are so tasty. It's refreshing to delve more into having meatless meals, and it's something we try to do about once a week. There have been some huge wins, like these burritos, as well as some awful, awful fails, which makes this win even sweeter.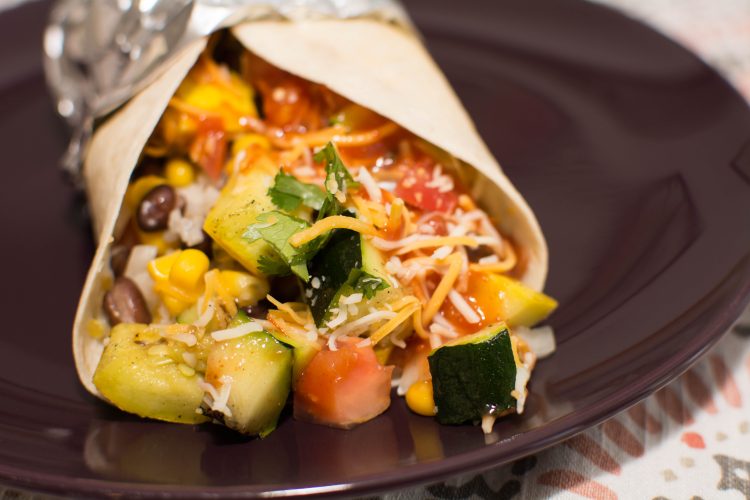 Ingredients
1 Tbsp. olive oil
2 cups long grain rice
4 cups chicken broth
2 whole limes, juiced and zested
1/4 cup chopped cilantro
2 whole zucchini, cut in half lengthwise
1 whole yellow squash, cut in half lengthwise
olive oil, for brushing
1 (15 oz) can seasoned black beans
6 large tortillas
1 cup grated cheese
--Corn Salsa--
16 oz white sweet corn, fresh or frozen
1 large poblano pepper
1 small red onion, chopped
1 jalapeno pepper, chopped
1/2 cup fresh cilantro, chopped
juice of 2 limes
juice of 1 lemon
pinch of sea salt
--Toppings--
sour cream
salsa
guacamole
chopped tomatoes
Instructions
1
Grab a large saucepan, and heat up the olive oil in it over medium heat. Once heated add in the rice, stirring for 2 minutes. Then, pour in the chicken broth, then the juice and zest of 1 lime. Bring everything to a boil, then reduce to a simmer, cover, and cook for 20-25 minutes until all the liquid is gone. Add the juice and zest from the remaining lime, then add in the chopped cilantro. Set aside. the cilantro. Set aside.
2
While the rice is cooking make the corn salsa. Add all ingredients together, mix to combine, then put in the fridge until ready to serve. You'll want to remove the jalapeno seeds if you don't want it to be spicy, or leave some for a bit of a kick, etc.
3
Brush zucchini and squash slices with olive oil. Grill them on a grill pan, a charcoal grill, or saute them in a heavy skillet over medium-high heat, turning them halfway through. Remove when the veggies have bright colors on the outside. Set aside to cool, then dice them.
4
Heat the beans in a small saucepan until they're warmed through.
5
Warm the tortillas on the stove, turning so you warm each side.
6
To put the burritos together lay out each tortilla, then spoon on the rice, beans, grilled veggies, and corn salsa. Top with chopped tomato, cheese, sour cream, salsa, and guacamole if desired, or any other toppings. Roll up, and enjoy.
OurKindofWonderful