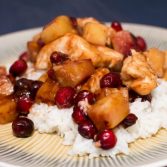 Pineapple Cranberry Barbecue Chicken
I originally found a recipe for pineapple barbecue chicken, but as we were making it I thought it seemed, well, boring. I asked K if I could spice it up, and grinning he told me yes. He knows if I ask that it will usually involve cranberries, which this did. So, I added more bbq sauce, cranberries, spices, and oh my goodness you guys, just smelling this as it cooked had us drooling. When we took it out and tried it both of us were in heaven. This should definitely be a meal that's on your must try list for fall!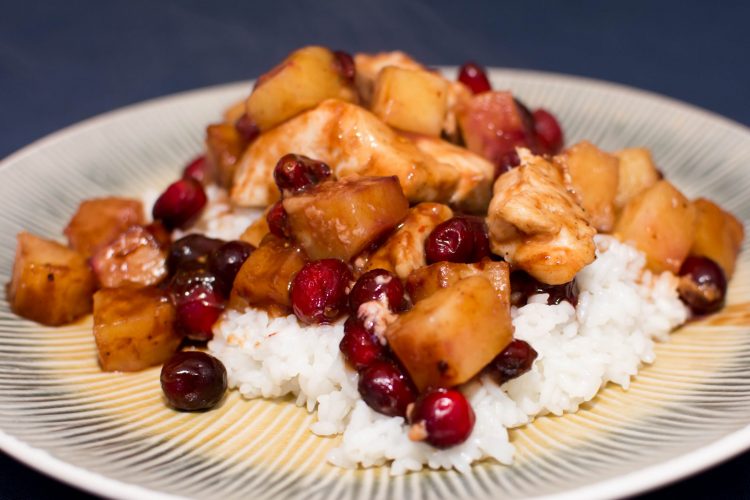 Ingredients
2 lbs. boneless, skinless, chicken breasts
ground pepper, to taste
3-4 cups honey bbq sauce
2 cans (20 oz each) pineapple chunks
2-3 cups cranberries
1/8 - 1/4 tsp. red pepper flakes, to taste
dash of ground cloves
dash of hungarian paprika
1/8 - 1/4 tsp. cinnamon, to taste
rice, for serving
Instructions
1
Preheat oven to 400 degrees.
2
Tenderize chicken breasts and season lightly with pepper on each side. Cut chicken into strips.
3
Grab a 9x13 casserole dish, spray with non-stick spray.
4
Arrange the chicken in the baking dish, and top with half of the bbq sauce; rub the sauce into the chicken then top with pineapple chunks and cranberries.
5
Add the remaining bbq sauce on top, as well as the red pepper flakes, hungarian paprika, cloves, and cinnamon. Cover and place in the fridge for 30 minutes, or up to 2 hours.
6
Remove plastic wrap and bake uncovered for 40 minutes, or until chicken's internal temperature reads 165F.
7
Serve over rice. Enjoy!
OurKindofWonderful