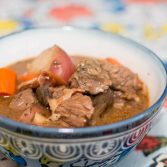 Slow Cooker Beef Stew
This beef stew is a perfect cold weather meal, and is so easy! We rarely find stew recipes we enjoy, but this is definitely one of them, which has been wonderful. We love to eat ours alongside mashed potatoes (we put them in the bottom of our bowl, then top with the stew) but you can eat it with or without.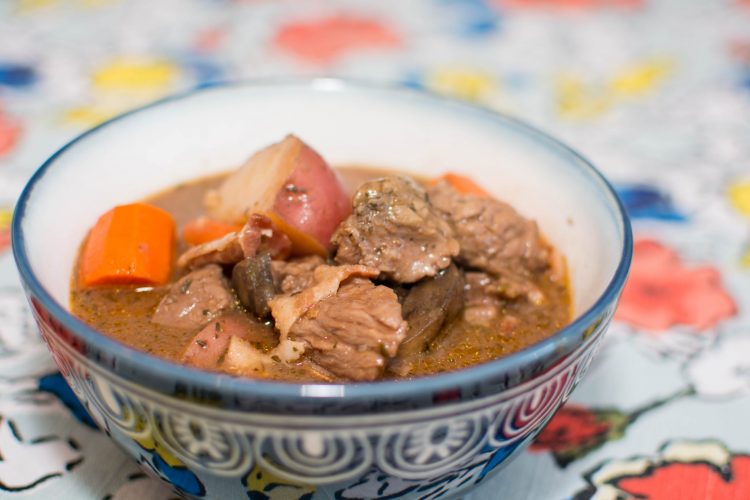 Ingredients
5 slices bacon, chopped into small pieces
3 lbs. boneless beef chuck roast, cut into 1 inch pieces
1 cup red cooking wine
2 cups chicken broth
1/2 cup tomato sauce
1/4 cup soy sauce
1/4 cup flour
3 garlic cloves, finely chopped
2 Tbsp. thyme
5 medium carrots, peeled and cut into 1 inch pieces
1 lb. baby potatoes
8 oz. fresh mushrooms, sliced
parsley, for topping
Instructions
1
Cook the bacon in a large skillet over medium high heat, until it's crisp. Put the bacon in your slow cooker.
2
Salt and pepper the beef and sear it on each side for 2-3 minutes, using the same skillet as you did for the bacon. Add the beef to the slow cooker.
3
Add the red wine to the skillet, being sure to use a spatula to scrape down the brown bits on the side of the skillet from your bacon and roast. Allow the mixture to simmer, then reduce the heat and slowly add in the chicken broth, tomato sauce, and soy sauce. Slowly whisk in the flour, then once combined add the sauce to the slow cooker.
4
Add the garlic, thyme, carrots, potatoes, and mushrooms to the slow cooker. Stir it all together and cook on low until the beef is tender for 8-10 hours or high for 6-8. Top with fresh parley and serve with mashed potatoes if desired.
OurKindofWonderful