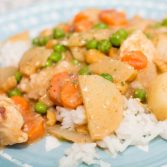 Sweet Peanut Chicken Curry
We found this recipe like 4 years ago. It was ok, but not amazing. I was going through all of the old recipes and figured I could save this one, so after changing up the spices, sauce, all that, and adding potatoes, we have this amazing curry! I wasn't nearly as confident experimenting in the kitchen when we first got married, but now I do it all the time and it seriously seems to always pay off.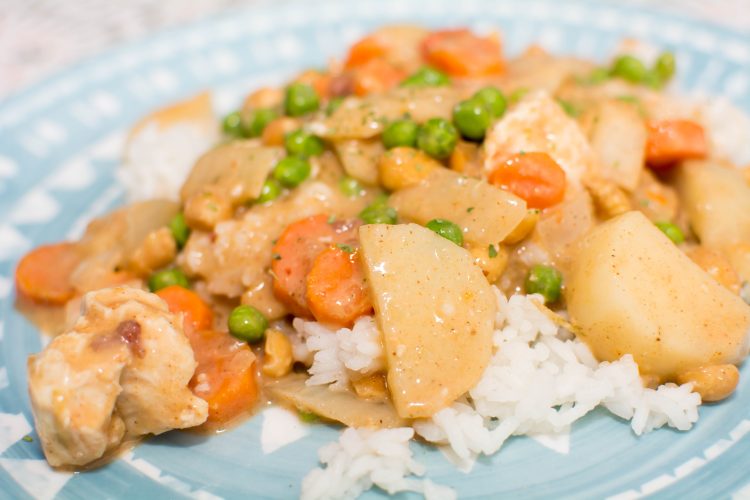 Ingredients
1 medium onion, cut into thin wedges
5-6 medium-large carrots, sliced
5-6 red potatoes, cut into fourths
1 large red pepper, cut into wedges
2-3 lbs. boneless skinless chicken breasts, cut into 1 inch pieces
1.5 cup chicken broth
1/2 cup creamy peanut butter
1 tsp. finely shredded lime peel
4 Tbsp. lime juice
4 Tbsp. quick-cooking Tapioca
1 tsp. ground ginger
5-6 tsp. red curry paste
1/2 tsp. minced garlic
2 cups frozen peas
2 cans coconut milk
hot, cooked rice to serve
1.5-2 cups chopped peanuts
1/8 tsp. cloves
1/4 tsp. cinnamon
dash of Hungarian paprika
dash of allspice
Instructions
1
In a large slow cooker place the chopped onions, potatoes, carrots, and red pepper. Top with chicken.
2
In a medium bowl whisk together the chicken broth, peanut butter, lime peel, lime juice, tapioca, ginger, curry paste, and garlic until smooth. Pour over the chicken in the slow cooker. Toss to coat.
3
Cover and cook on low for 5-6 hours, or high for 2.5-3 hours. 30 minutes before it's done stir in the coconut milk, peas, peanuts, cloves, cinnamon, paprika, and allspice. Let cook for 30 minutes.
4
Serve over hot, cooked rice.
OurKindofWonderful