I'm sure you've seen the date night jars all over Pinterest, just like I have, but I could never find one with date ideas that would really work for us. I finally took the plunge and made one for us, in another attempt to get weekly, not just monthly, date nights to be a thing.
I bought these colorful popsicle sticks so I could kind of color coordinate.
Green, for outdoor activities
Red and Orange for things that are outdoors and require a baby/dog sitter, and money. And, I've researched all of these to know where certain activities are, and included that info on our sticks.
Yellow, Blue, and Purple for at home dates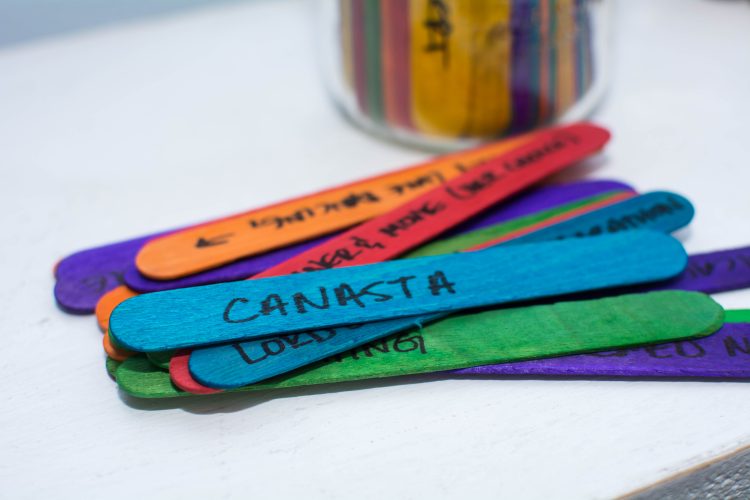 I love the color coordinating, if money is tighter we know not to pick red or orange. If the weather isn't great we know we may not want green, etc. These are also all things that we'd like to do. I'm not going to lie, coming up with all of these ideas took me a couple of months, apparently we're picky date night people, haha.
Get ready for one MASSIVE list of ideas, and enjoy!
Dutch Oven Dinner
Frisbee
Gun Range
Country Line Dancing
Musical Movie Night
Star Gazing & Cocoa
Dinner & Movie (Her Choice)
Improv Broadway
Bike Ride
Hike the Y
Canasta
Learn a Song on Piano & Guitar
Snowman & White Christmas
Go See a Play
Try a New Restaurant
Squirt Gun Fight
Play Basketball
Go to a Basketball Game
Play Raquetball
Play a Childhood Game
Make Ice Cream
Go on a Walk and Grab a Treat – Keep It Local
Massages & Game
Visit a Museum
Just Dance dance off
Youtube Karaoke
Sew Something Together
Cornfield & Apple Cider
Mario Kart Racing
Miniature Golf
Go See Christmas Lights
Classic Movie Night
Puzzles & Pizza
Trivia Quiz
Try a New Restaurant
Hike in The Canyon
Kite Flying
Hairspray Movie Night
Sexy Jenga & Dessert
Dominion Game Night
Princess Bride Movie Night
Lingerie & Poker
Comedy Sportz
Desert Star
Play "Would You Rather"
Go Get Couple's Massages
Go Camping
Go Bowling
Monopoly Night
Local Bakery Date Night
Art Night – Painting/Drawing
Dirty Minds Game
Video Game Night
Make a Steamy Bucket List – Check One Off
Rock Climbing
Go to the Opera
Bocce Ball
Work on Homemade X-Mas
Sunrise Hike & Breakfast
Learn a Magic Trick
Karaoke Night
Fishing
Go to the Fair
Croquet
Mexican Themed Night
Timp Caves
Farmer's Market
Lord of the Rings Marathon
Mad Libs
Illustrate a Story with Sidewalk Chalk
Go on a Picnic
Coldstone Mini Date
Make Homemade Donuts
Go Sledding
Build Something Together
Rooftop Concert
Make a Bucket List – Check One Off
Go Swing Dancing
Run a 5K
Explore a New Trail
Go to an Amusement Park
Hula Hoop Contest & Games
Spa Night
Jurassic Park Marathon
Play Horse Shoes
Build a Fort & Watch a Movie
Game Night, 1 His Choice, 1 Her Choice
Chess Night
Concert in the Park
Italian Themed Night
Harry Potter Marathon
Campfire & S'mores
Indoor Bowling
Go to the Rodeo
Dinner & Movie – His Choice