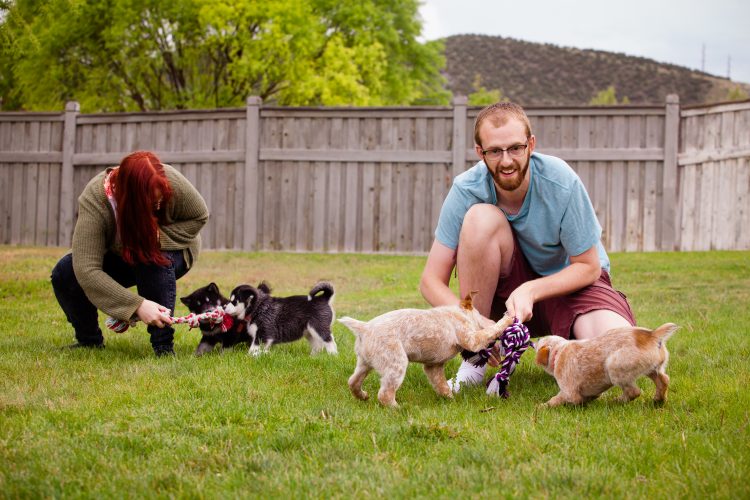 One year ago this past weekend we moved into our house, and brought home our 4 puppies. I remember how long a school year seemed when I was younger, and how time would just drag, and now a year has gone by faster than I ever imagined, and I just wish I could slow it down.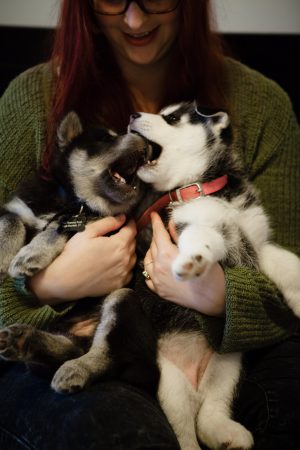 I'm looking at these photos of our tiny baby puppies, and I'm amazed at how much they've grown, changed, and how much their personalities have developed – I'm so thankful we have photos done so often, and I have them to look back on.
I remember many sleepless nights as we had to be bottle feeding Padfoot and Sharky every two hours. I was terrified these little guys weren't going to make it. They were so tiny, and we needed to be sure to hear them if they cried/woke up that they slept next to our bed, both of them, in one storage container full of blankets. It got to the point that they wouldn't go to sleep unless my hand was in there with them.
We had to teach them to lap water, to eat solid foods, and it seems like it was forever ago. Everyone told me they were too young (they definitely were, they were only 4 weeks, but that wasn't our choice), and I was told they'd most likely die. I am so grateful that time is over, and that they hunkered down and held on for us, and thrived. I couldn't imagine our lives without them.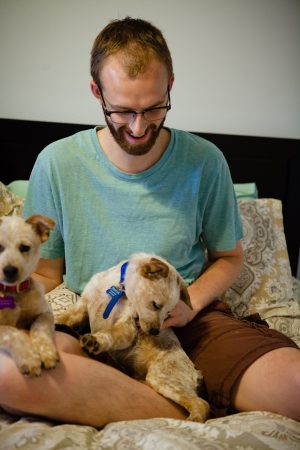 I remember when we picked up Sherlock and Luna, and how they were so calm, and slept the whole ride home. Oh, how they tricked us, haha.
They quickly became obsessed with the rope toy we bought them, and to this day rope toys of any kind are their favorite.
They've continued to be best friends, and they definitely look out for one another. Luna and Sherlock have quickly become the most needy out of all of our dogs, always wanting love and attention, and to be close to you.
All of our dogs have huge personalities, and we fall more and more in love with them every day. We've learned that it'll be a long time until we ever have a nice backyard, as it was nasty when we moved in, and on top of that we have dogs that think freshly planted trees are just sticks to play with.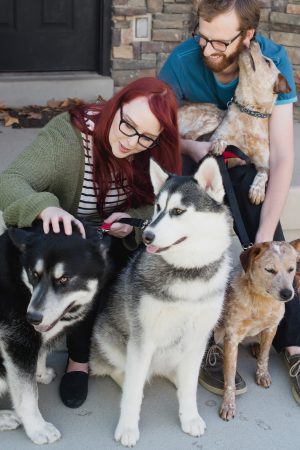 I remember how giddy and anxious we were once we found this house, and how stressed I was waiting for closing to be done. I remember moving our stuff in and realizing we didn't have enough to even come close to filling this place.
I remember playing outside with our dogs, when the grass/weeds were almost as tall as them. I remember when Padfoot and Sharky couldn't get up the steps to get back on the deck, and when Sherlcok and Luna were scared of the new doggy door we installed.
So many things have happened here, at our house. In just one year we've done more house repairs than we ever thought we would, or hoped to do. K has learned how to build furniture, planter boxes, we've painted almost half of the inside of our house, and the list goes on and on.
We've laughed here, cried, screamed, fought, played games, made amazing meals, burned food beyond recognition, fell back in love with each other, etc. In one year more has happened then we ever imagined. We've switched jobs, experienced a lay off, closed a business, closed etsy shops, and learned how to put each other first.
This past year was one of the hardest of our entire marriage, but I wouldn't change it. We've grown and learned so much, and it's helped us become the people we are today, and I'm pretty fond of the people we're becoming.
One year down, and so many more to go in this house. I love the memories it's helped us create, and am looking forward to what comes our way this next year.