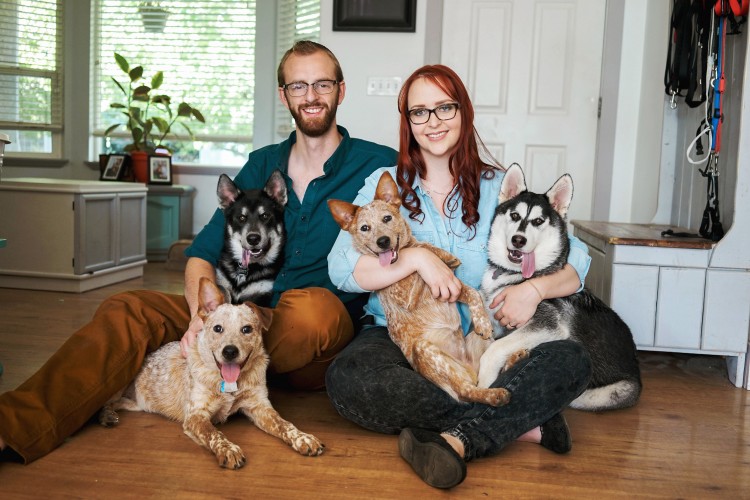 We discovered this amazing photographer, Chloe Epperson who we fell in love with. She did this lifestyle session, and we were blown away. She'll be doing sessions for us monthly, and we couldn't be more excited. You know what's even more exciting? She's offering $50 off a lifestyle session to you guys, you just need to tell her you were referred by Our Kind of Wonderful upon booking. And, I used Lauren for hair and makeup, you should definitely check her out, she's amazing.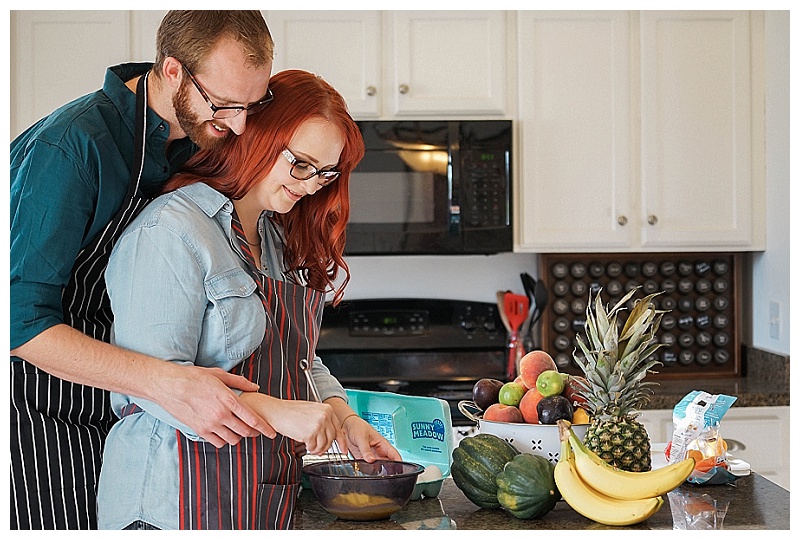 K and I have always loved cooking together, and it turns out the pups love it too. How could they not with all the new snacks they get to try? If I'm in the kitchen they want to be front and center; they know I'll always cave and give them something.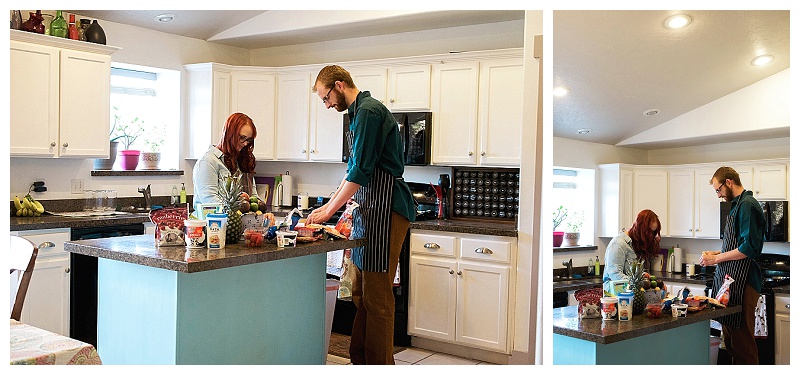 Mealtime has changed since getting them. No longer is anything done on time, or gracefully, but somehow it's better than ever.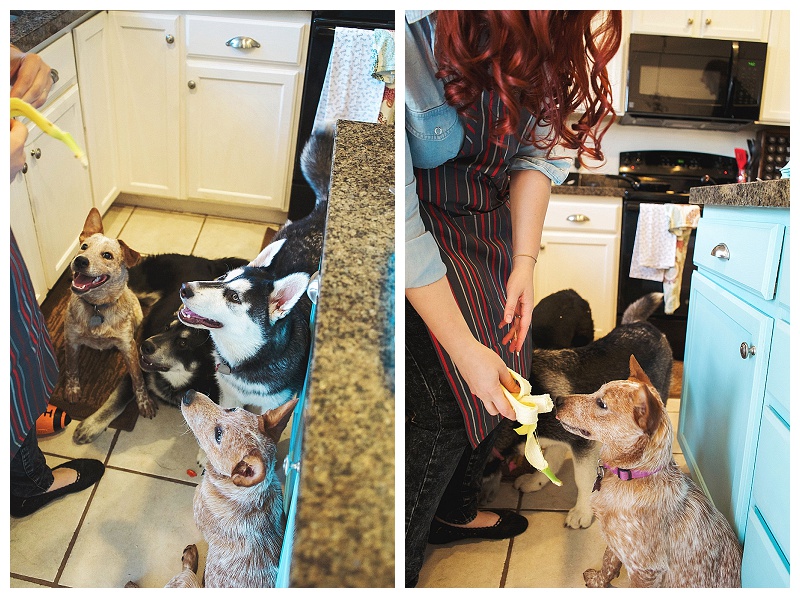 They love bell peppers, fruit, pretty much anything we'll give them. I've pretty much memorized the list of safe for dogs and not safe for dogs food by now.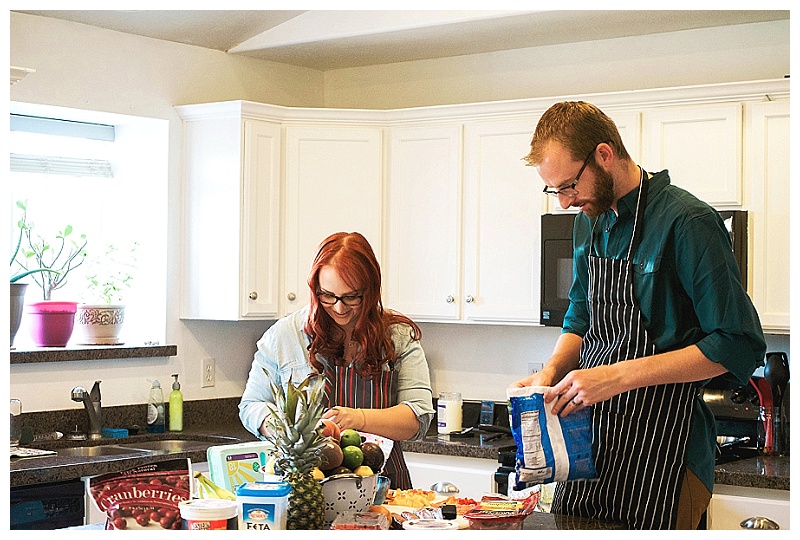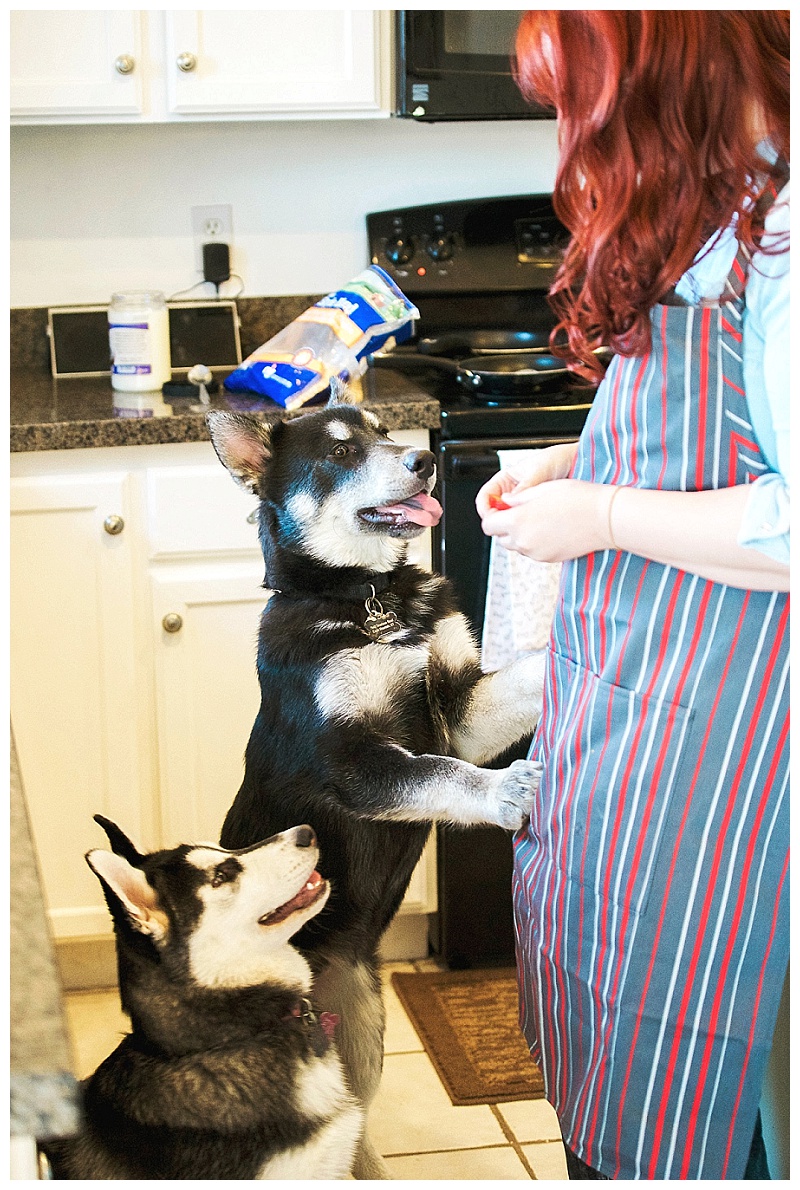 Cooking is a whole new adventure now, as we try to walk around 4 puppies, get cupboards open, and not drop anything we need. Padfoot and Sharky insist on sitting right by the cupboard with all of our pots and pans, and heaven forbid you need to get in there and move them. If you do, prepare for the most pitiful groan/cry ever from Padfoot, and some glaring from Sharky.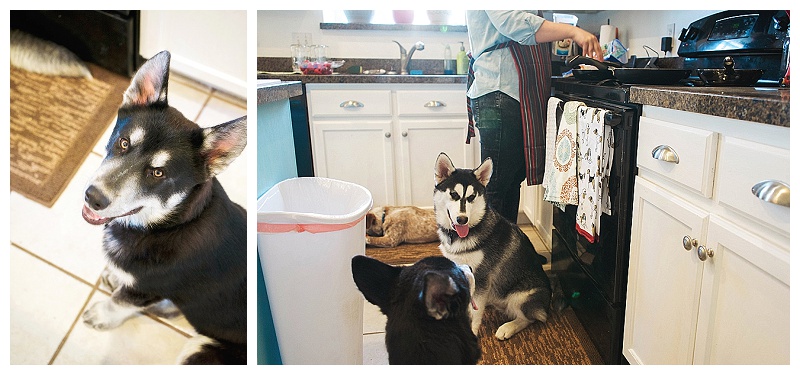 Omelets were something my mom always made growing up, and are a favorite for us and the dogs, as well as a weekend tradition. Well, as much tradition as it can be when K works 7 days a week and some weekends I'm too tired to get up and make him breakfast before he leaves for work. I am a simple ham, cheese, and sour cream, kinda girl, which gets boring, so I decided to be brave and make fruit omelets. OH MY GOODNESS, I'm a genius.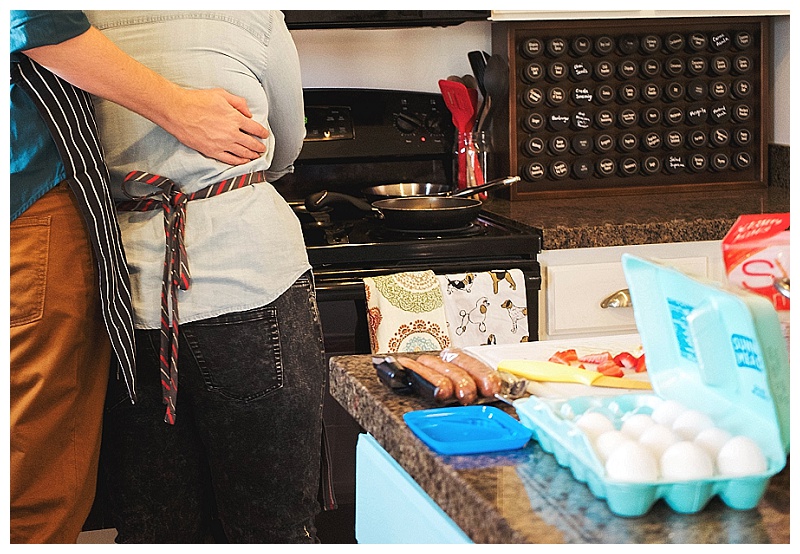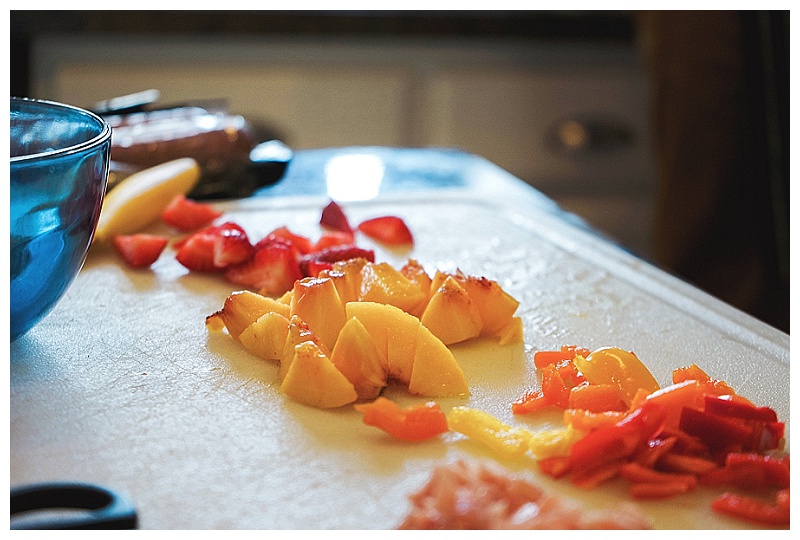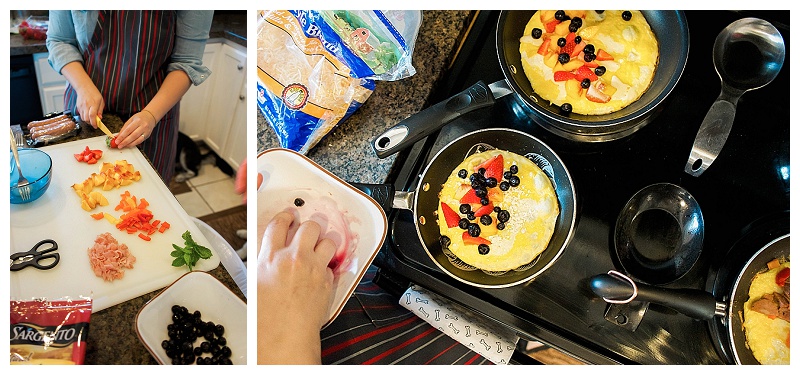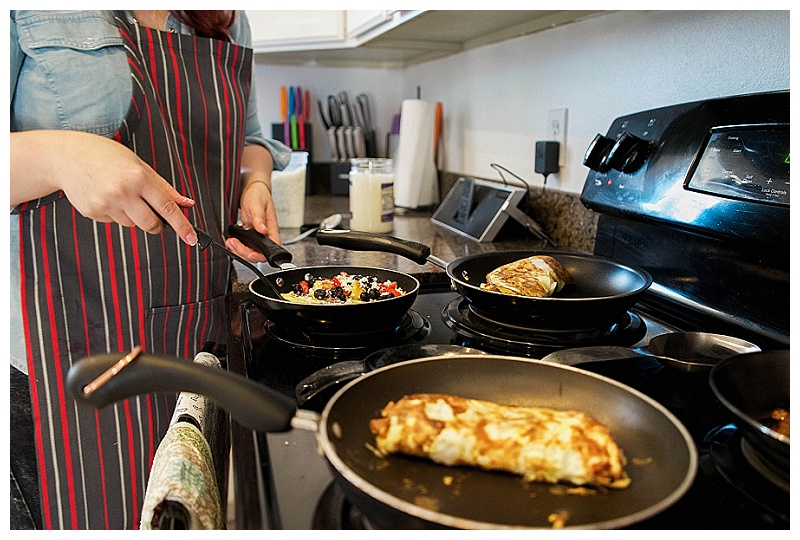 We started out with feta, but have graduated to using provolone cheese, blueberries, strawberries, and chopped peaches, then another piece of provlone on top, and the are divine. Pair that with the mint lime blueberry orange juice K came up with and it's one of our favorite breakfasts. Plus, when I can't finish my omelet the dogs are in heaven, as it's all dog friendly food in there :].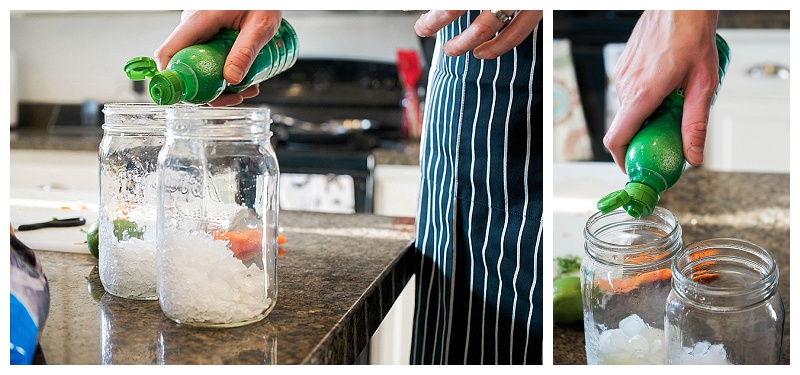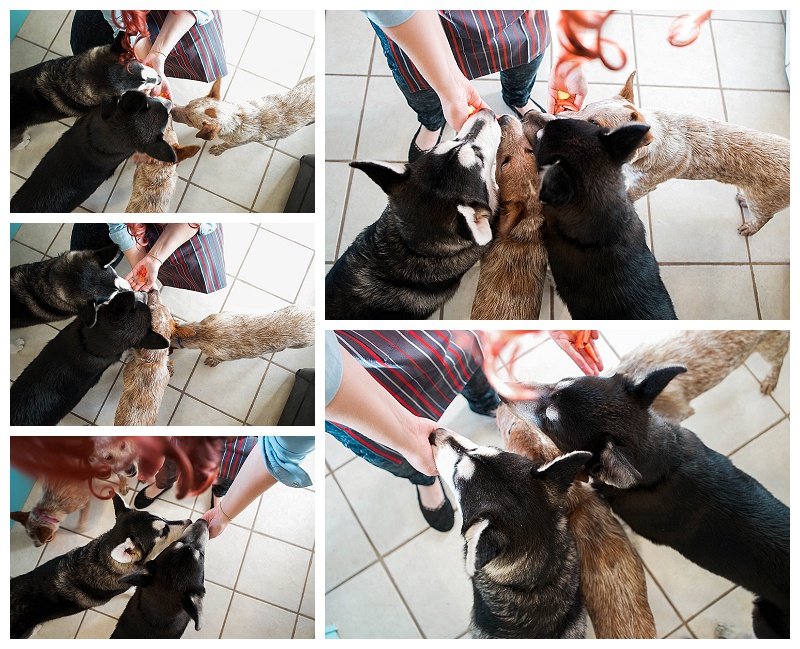 It's kind of hilarious, because as I sneak them pieces of my omelet once I'm done, I use my fork, and they've all, well, all but Luna, learned how to eat off of a fork or a spoon.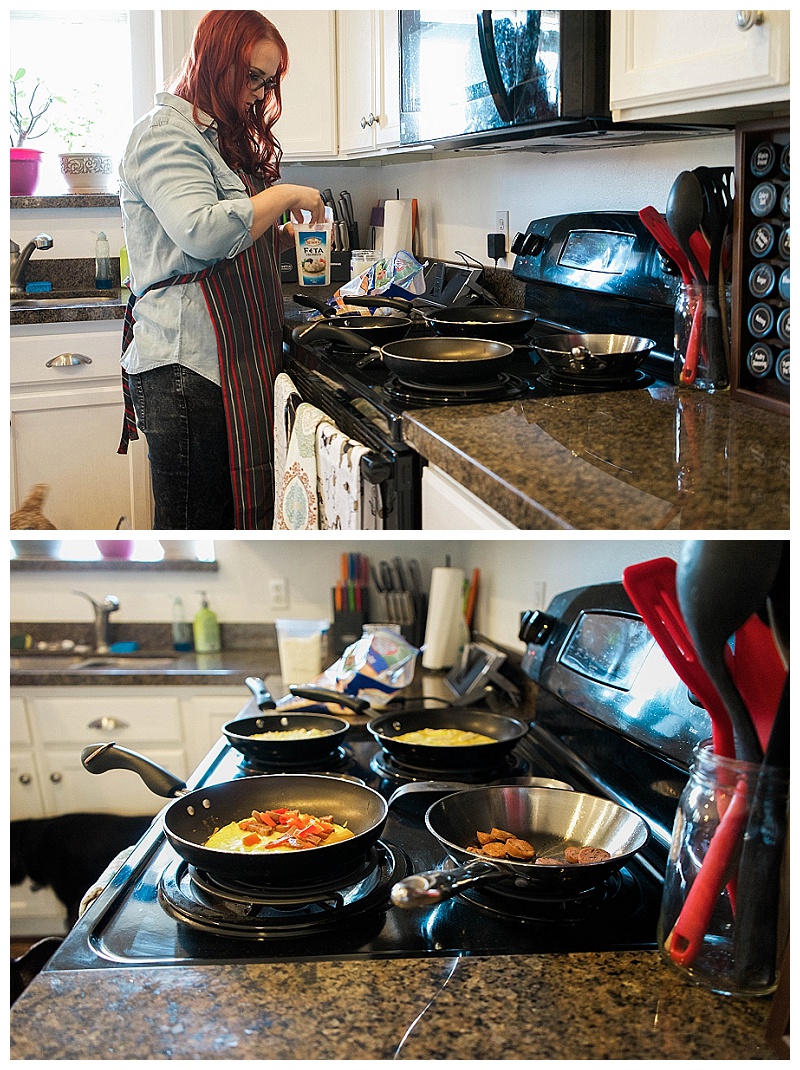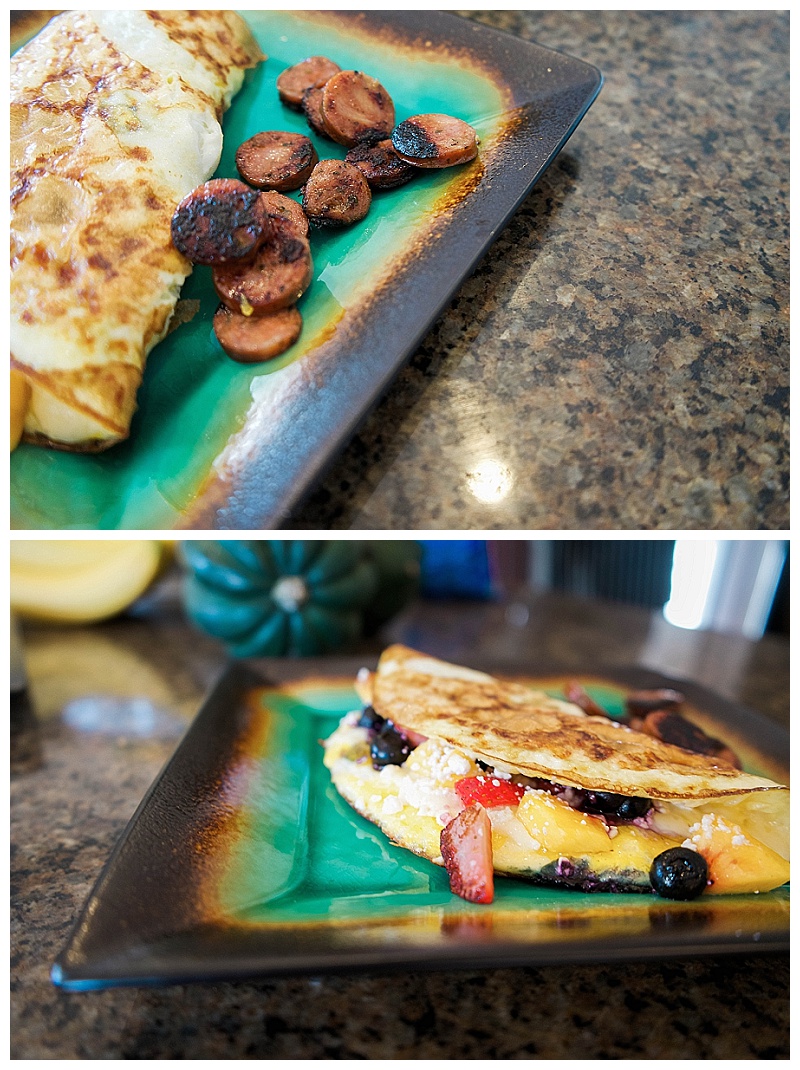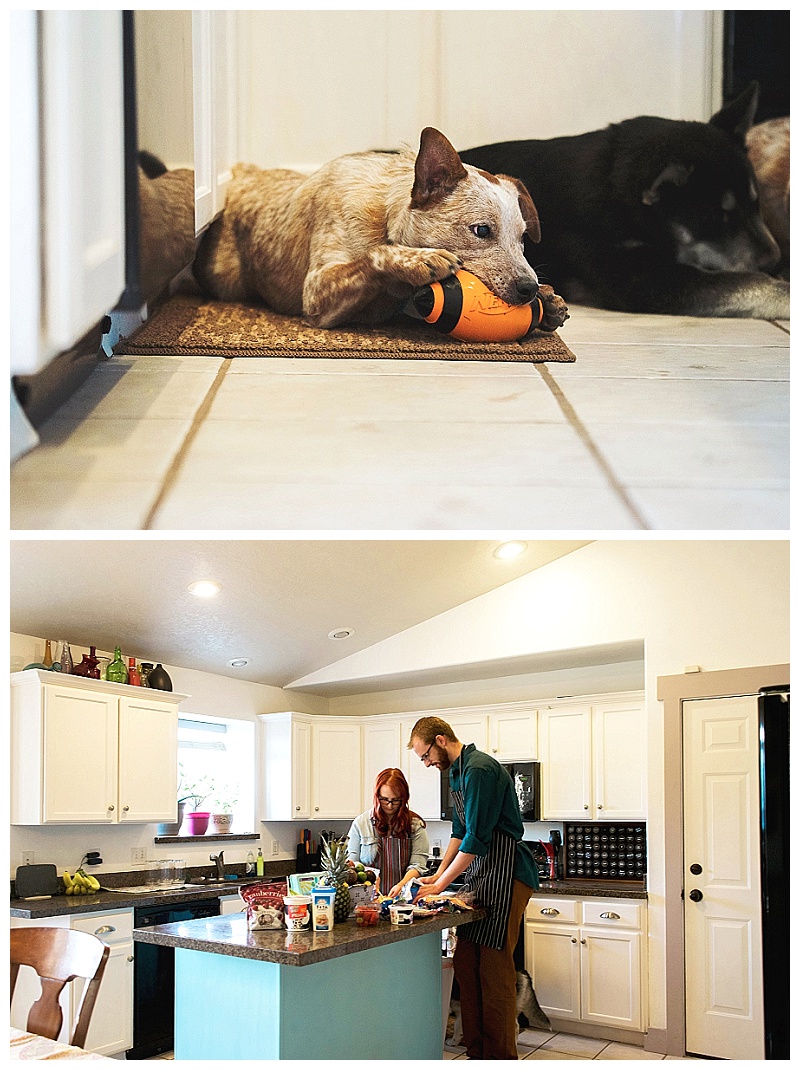 One of the reasons I'm so passionate about having our photos taken is because my grandma died of alzheimers disease, and ever since that, and watching The Notebook, of course, I've been scared I'll get it too, so I've been pretty strict about making sure K and I make memories, and have a way to remember them. I started writing a journal to him when we first got married, and still do. Each entry started with Dear Hubs, and I'd talk about our day, my hopes, dreams, if I was angry, sad, happy, what I loved about him, etc. I love going back and reading through that, and reliving moments, and falling in love with him all over again. I want photos as well, to help in case I have that alzheimers gene. I never want to forget about us, or our dogs, and I always want to have something to look back on.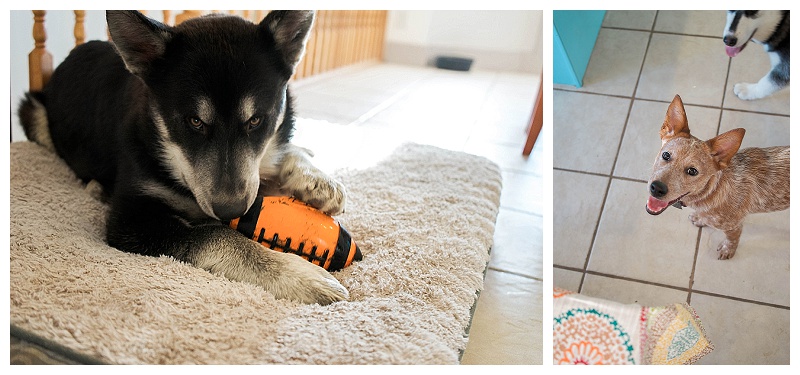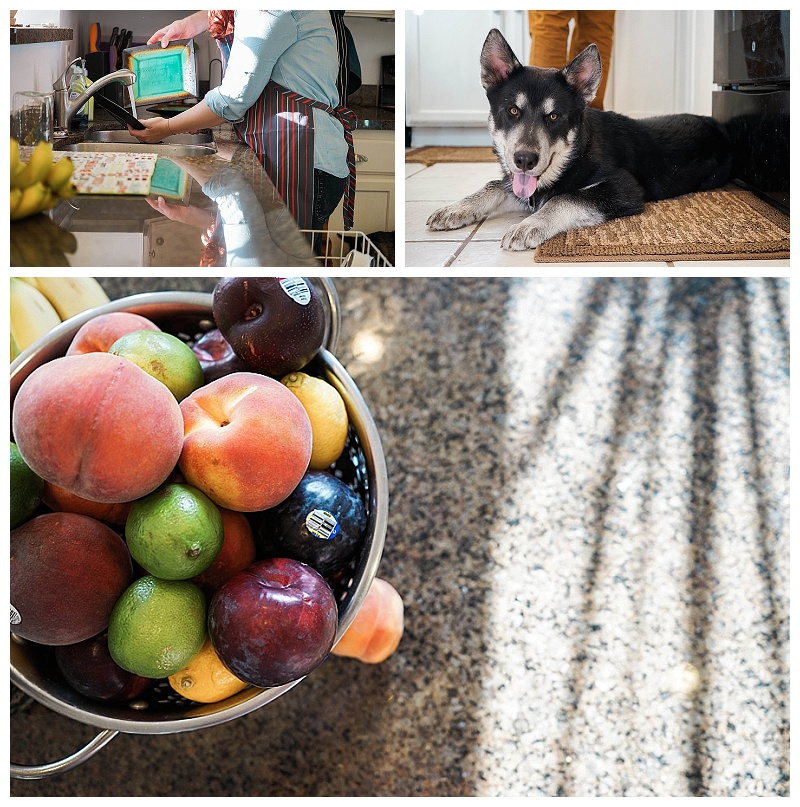 These photos remind me of us painting those cabinets white, and the island blue, all within a week of moving into our house and getting the dogs. I remember all of the blue dog prints across our wood floors (whoops). I remember neck kisses from K as I cook.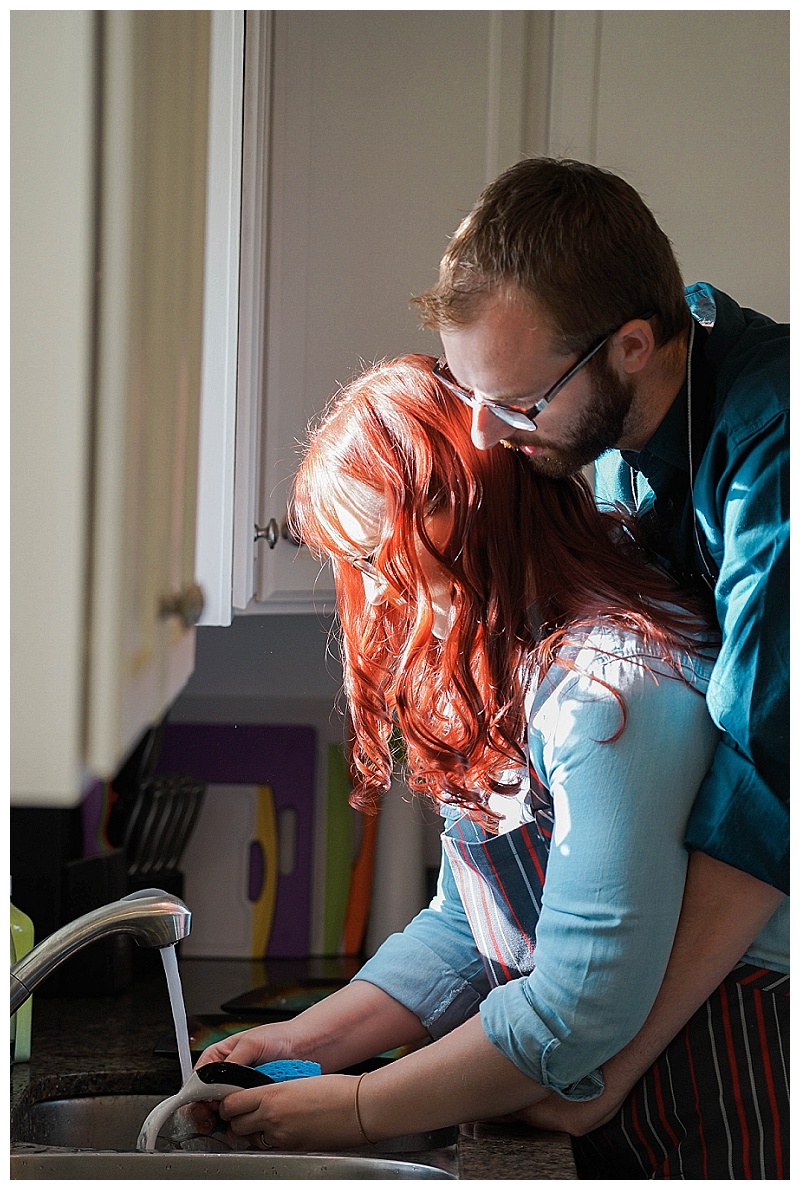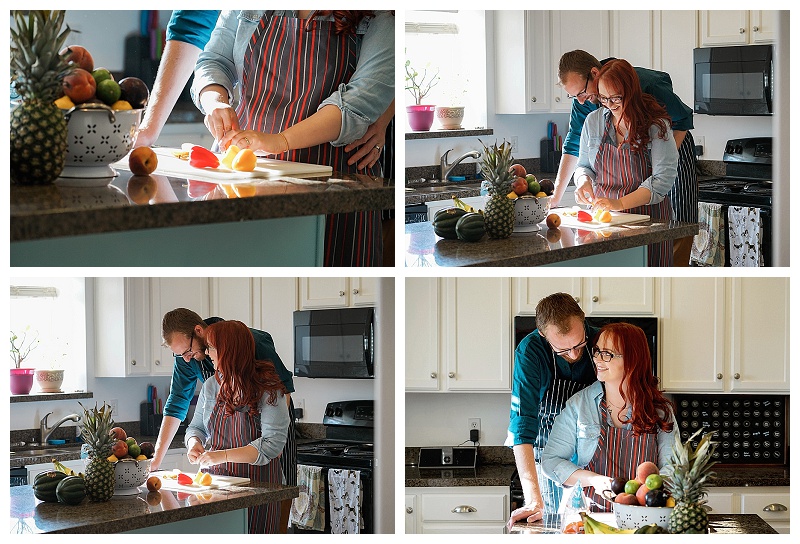 I think of how adorable it is that all of our dogs will line up and sit down if I have ANYTHING in my hand. Seriously, it could be a tissue, and they're sure it must be a treat, and they sit there patiently waiting for it. If it isn't a treat I am quickly suckered into their cuteness and go fine one for them. Well, four.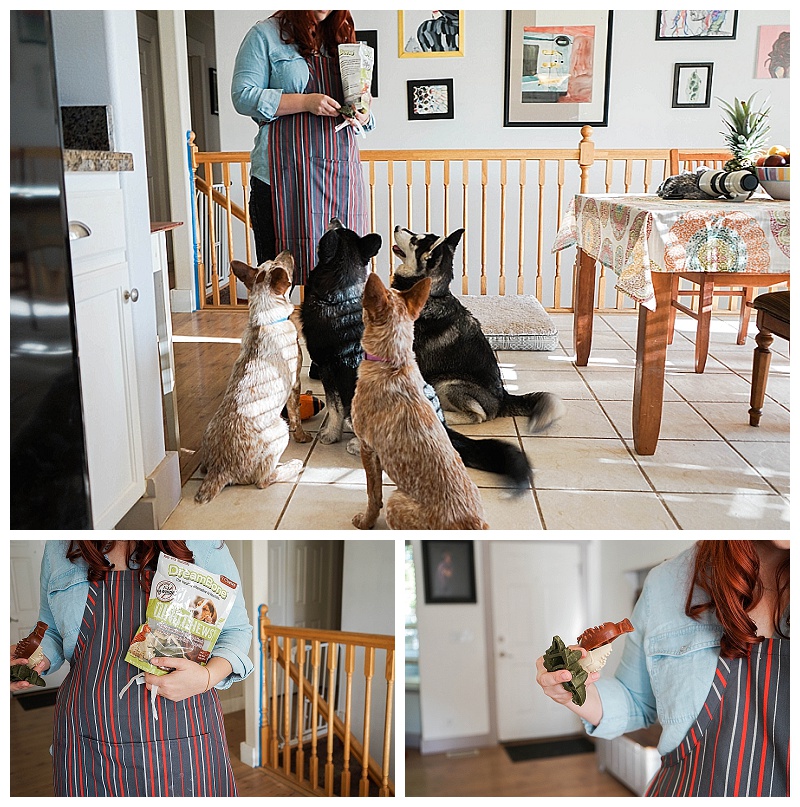 I remember the craziness of trying to get dogs to all sit down together. They have looking at the camera down (photographer here, duh), but the whole sitting next to us all at once thing is like the worst thing ever for them. They fight over who gets to be on our laps, and constantly want to switch spots.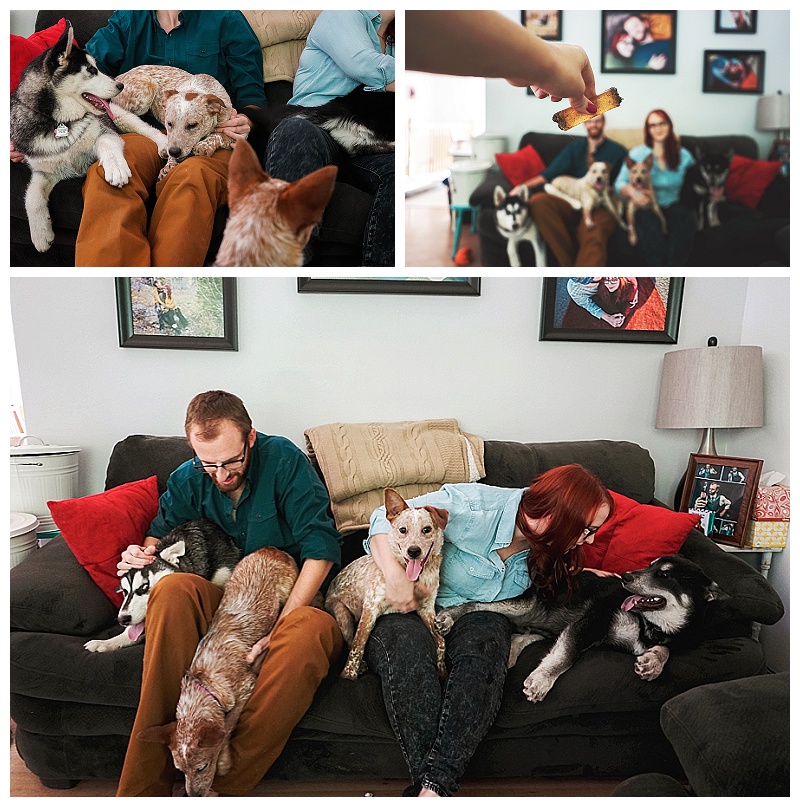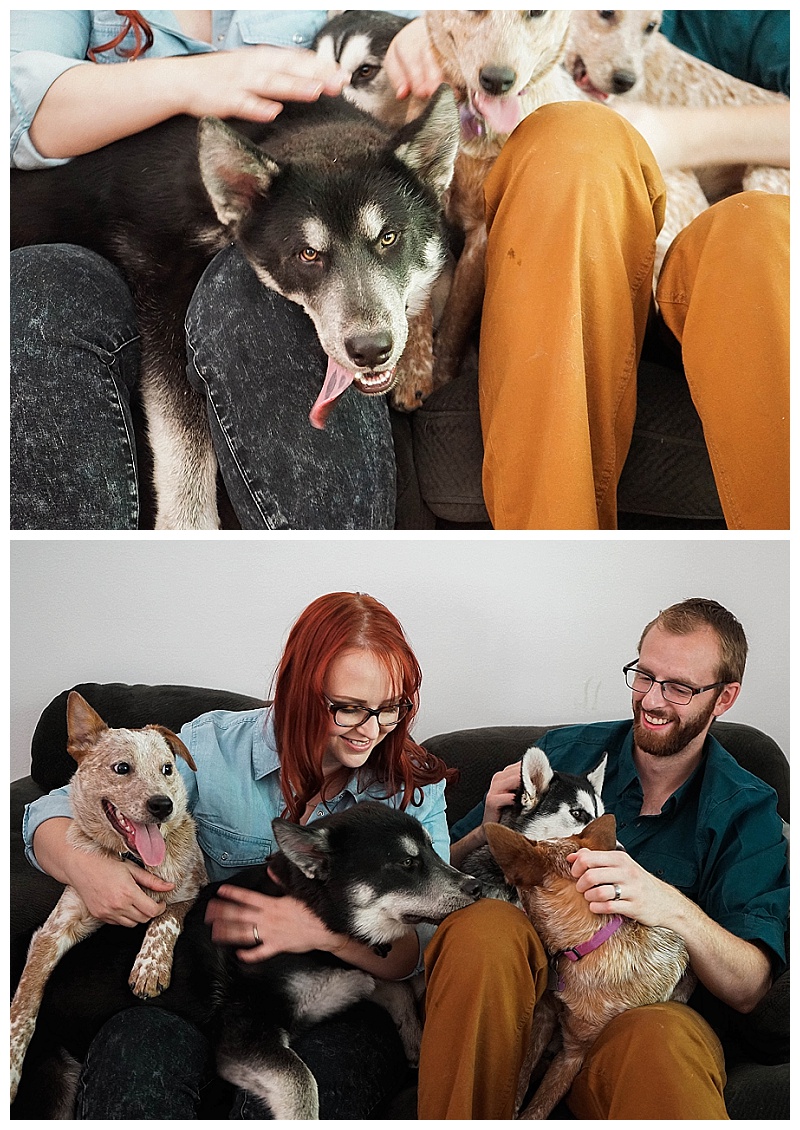 Mostly, when I look at these photos, I feel love. I remember all of the laughter, and the crazy times, such as the flour fight we did for photos, with the dogs. Talk about a HUGE mess.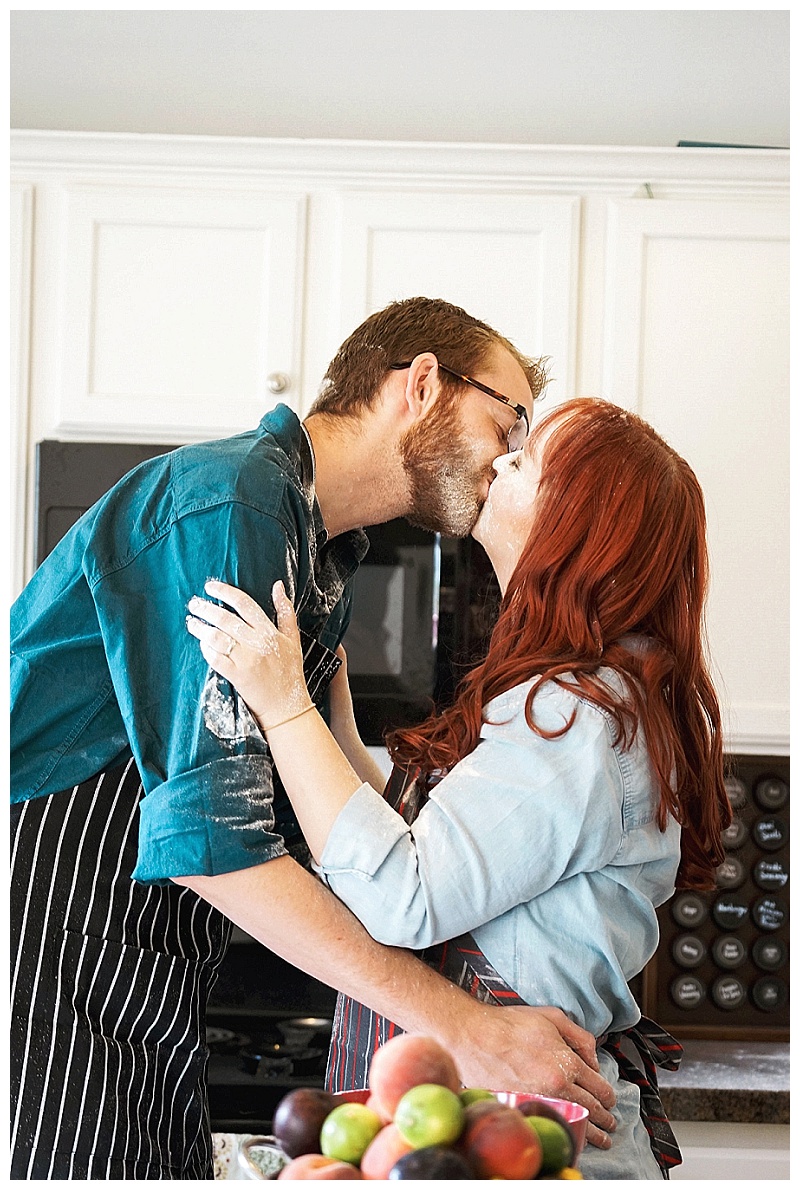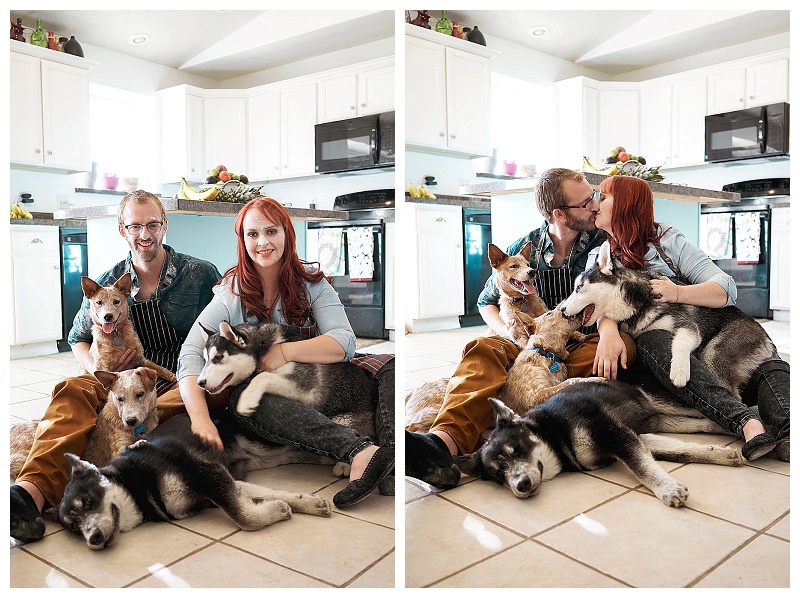 Even with working so much, a house that is constantly a mess and covered in dirt (thanks dogs), sometimes irritable pup parents, and constant exhaustion, there's love, happiness, a family. What I love most is how Chloe captured this for us. I've never had a photographer able to bring my vision to life, and capture the craziness, as well as the happy posed at the same time.