K (the husband) came into our marriage semi handy. He could hang photos, patch holes, do some sheetrock work, etc, but he's taken his handiness to an entirely new level. I wanted an entryway table to put our Christmas tree on, so he built me one.

I'm still a little in awe that it's done, and ours, and that he did such an amazing job. It isn't wobbly, it's so sturdy, and it is absolutely perfect. I wanted it about twice as wide as the plans said, so he even altered those and widened it for me. If you aren't impressed you should be. This was his second thing he ever built, the first being a blanket ladder.


You can find the plans he based this table off of HERE. We have quickly become huge Ana White fans – her plans are amazing, and she has so, so many different options. We have a huge wish list for things we want to make. Ok, who are we kidding, things I want K to make.


After building this, and me watching K build this, we started watching the show "Fixer Upper", and our list of house dreams, and house projects has drastically increased. Seriously, our house is going to be so rocking and stylish thanks to these newly developed super handyman skills K has developed.



After K finished the table I used some pre-stain wood conditioner, and applied it with a rag. The conditioner needed to have time to soak in, so after it dried I stained it with walnut stain. I only did one coat of stain, as I love the rustic look, and again, I applied the stain with a rag.


After the stain dried (about 24 hours) I applied a wipe on sealant. You can do numerous coats of sealant if you want, sanding a bit between each coat, but we only did the one, since this isn't being used as a kitchen table or anything. Then, once the sealant dried it was done!!!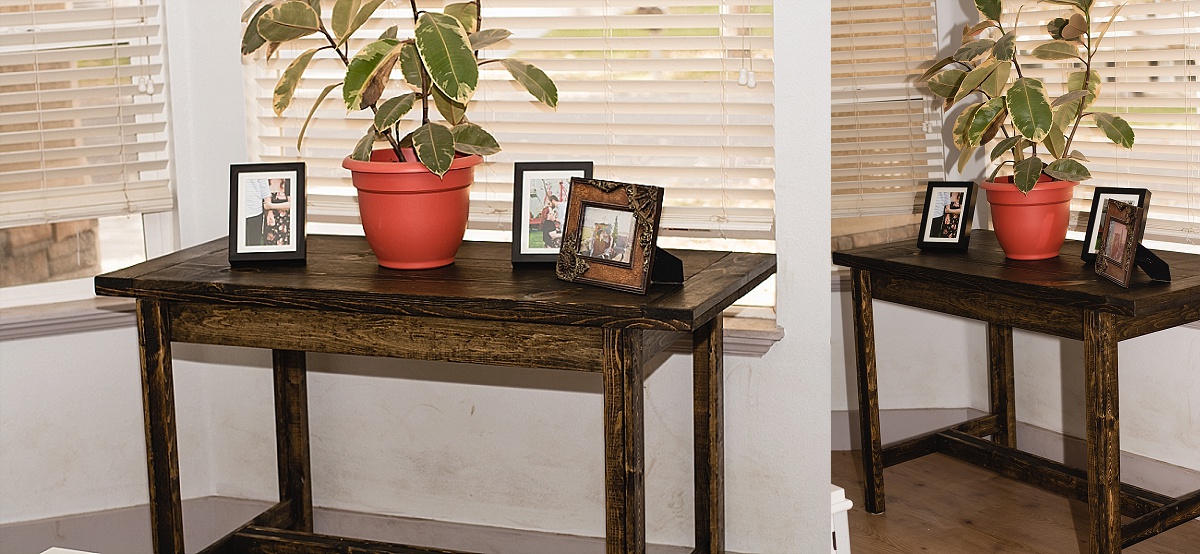 It worked perfectly for our Christmas trees, and is tall enough that the dogs aren't too interested in what's on top of it. With K making it twice as wide it's also wide enough that the dogs don't knock everything off when they try to look out the window, which is a daily thing for them.



This table is perfect, and amazing, and I am just obsessed with it. I just want K to have more time, and for him to build everything – bookshelves, bed frames, kitchen tables, cabinets. I want it all.

He already did build a bedframe, and it's phenomenal. That post will be coming soon. For now, admire this table some more. And my cute husband posing with his masterpiece!