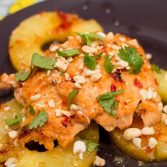 Baked Thai Pineapple Salmon
I only like fish one way, with the saltine cracker, honey, and mustard glaze that K puts on it, but I won't even pretend that that doesn't get old. I try to have us have fish once every month or two (K has it more often, but that's how often I'm willing to try), and slowly I'm hating it less and less. I didn't really grow up having seafood, so it's been interesting trying to get over the grossness of it as an adult. K loved this recipe, and while I didn't like it I did think it looked rather pretty, so it at least has that going for it.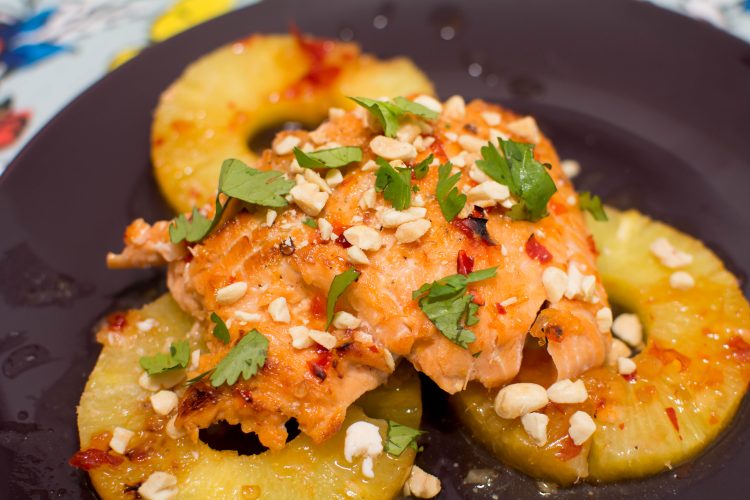 Ingredients
1 large salmon fillet
pepper, to taste
1/4 cup sweet chili sauce
4 Tbsp. hoisin sauce
2 Tbsp. rice vinegar
Fresh pineapple, cut into rings, saving 1/4 cup juice
3 Tbsp. peanuts, roughly chopped
cilantro, roughly chopped
Instructions
1
Preheat oven to 375 degrees.
2
Line a baking sheet with foil, then lay the salmon in the center and season with pepper. Slip pineapple rings underneath the edges of the salmon.
3
Grab a bowl and whisk together the sweet chili sauce, hoisin sauce, vinegar, and pineapple juice. Once combined pour the mixture over the salmon, folding up the edges of the foil around the salmon.
4
Bake for 15 minutes in the center of the oven.
5
Pull the foil edges away from the salmon, exposing it. Switch your oven to broil and cook for an additional 5-10 minutes, or until the edges just begin to blacken.
6
Top with chopped cilantro and peanuts - serve immediately.
7
Recipe by: http://www.lecremedelacrumb.com/baked-thai-pineapple-salmon-in-foil/
OurKindofWonderful