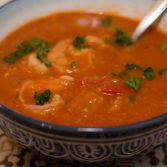 Brazilian Shrimp Soup
This is a soup we tried on a whim for K, and he absolutely loved it. I'm not a tomato sauce lover, or shrimp lover, so it definitely isn't my cup of tea. However, it was a huge hit for K!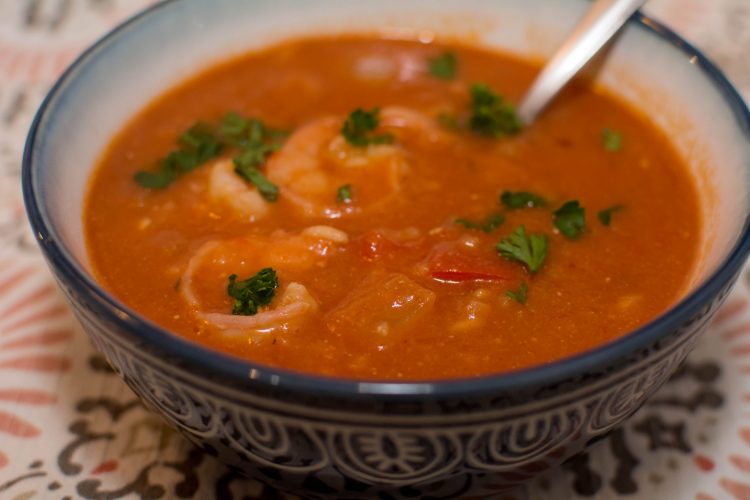 Ingredients
2 Tbsp. olive oil
1 medium onion, chopped
1 bell pepper, chopped
4 cloves garlic, minced
1/2 cup long-grain rice
1/4 tsp. red pepper flakes
1 tsp. salt
28 oz. crushed tomatoes
4 cups water
1 cup coconut milk
1 lb. medium shrimp, shelled and deveined
1/4 tsp. ground black pepper
3 Tbsp. lemon juice
1/2 cup parsley, chopped
Instructions
1
Using a large soup pot heat the olive oil over low heat. Add in the onion, bell pepper, and garlic. Cook, stirring occasionally until the onion and pepper are soft, which will take about 5 minutes.
2
Add in the rice, red pepper flakes, salt, crushed tomatoes, and water; bring to a boil. Cook until the rice is almost done, which will be roughly 10 minutes.
3
Stir the coconut milk into the soup and bring to a simmer. Add in the shrimp. Simmer, stirring occasionally until the shrimp is just done, 3 to 5 minutes.
4
Add in the black pepper, lemon juice, and parsley. Enjoy.
OurKindofWonderful