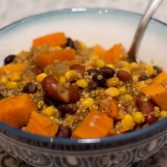 Vegan Quinoa Chili
We are loving incorporating more vegetarian and vegan dishes into our everyday meals. I have been pleasantly surprised at how delicious they are, and find myself craving them more and more. This chili is one of our favorite recipes; we paired it with our blueberry corn bread. The best part is how quickly it cooks, and easy it is to make. This should definitely be a go to recipe!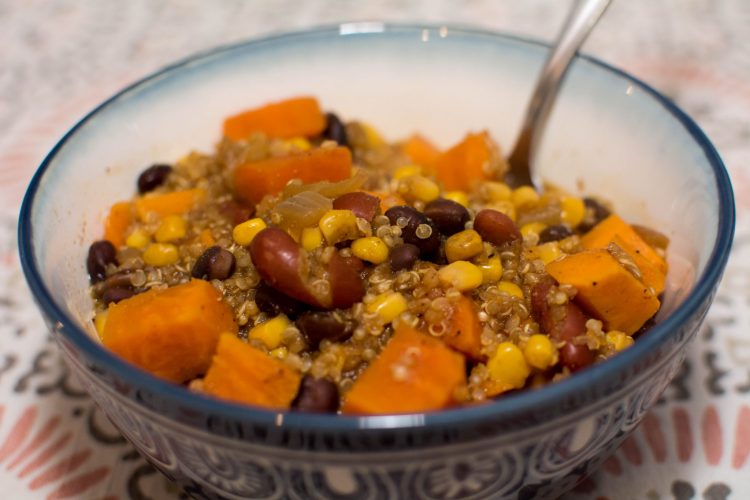 Ingredients
1 medium yellow onion
coconut or olive oil
1 lb. sweet potatoes, peeled and diced
1 tsp. garlic powder
1/2 tsp. black pepper
3 Tbsp. chili powder
3 tsp. cumin
4 cups low sodium vegetable broth, divided
1 cup uncooked quinoa
1 15 oz can kidney beans, drained and rinsed
1 15 oz. can black beans, drained and rinsed
1 1/2 cups corn
1 cinnamon stick
Instructions
1
In a soup pot over medium heat saute the diced onion in about 2 tsp. of oil, just until soft. Add in the diced sweet potato and spices. Cover and let cook for roughly 5 minutes.
2
Add in 3 cups vegetable broth and bring the mixture to a boil on medium-high heat, then lower the heat and let it simmer. Add in the quinoa, beans, corn, and cinnamon stick, then cover and cook for 30 minutes - just until the sweet potatoes are fork tender and the chili begins to thicken. When the chili is done cooking add in the last cup of vegetable broth. If it's still too thick for your liking you can add more, to taste.
3
Remove the cinnamon stick and serve immediately. We paired ours with blueberry corn bread, and it was delicious.
4
Recipe by: https://www.kimscravings.com/
OurKindofWonderful