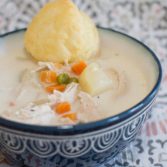 Crock Pot Chicken Pot Pie Soup
Homemade chicken pot pie is a huge hit in our house, so chicken pot pie soup is guaranteed to be as well. And, when it's a recipe you can just throw together in a crock pot, then walk away for hours, and it turns out delicious, it's our kind of meal.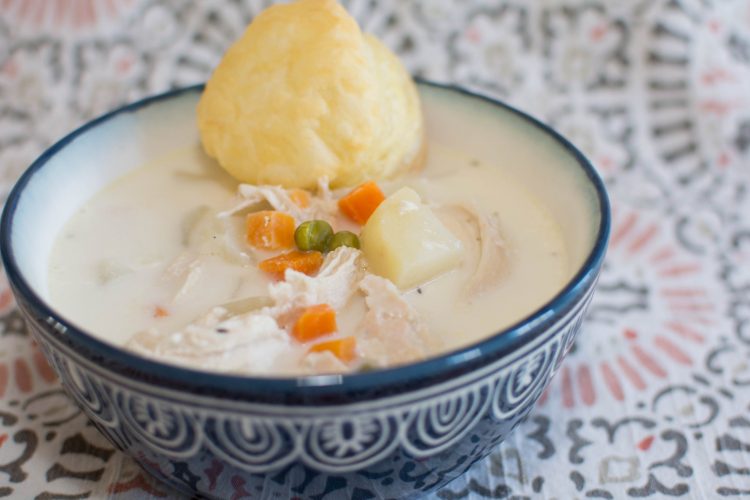 Ingredients
2 boneless, skinless chicken breasts
half an onion, diced
2-3 cloves garlic, minced
dash of rosemary
dash of thyme
32 oz chicken broth
2-3 russet potatoes, peeled and diced
1 pkg. frozen peas and carrots
2 Tbsp. flour
1 cup heavy cream
3 Tbsp. cornstarch
parsley, for topping
1 thawed sheet of puff pastry dough
salt and pepper, to taste
Instructions
1
Grab your crock pot and add the chicken, salt and pepper, onion, garlic, rosemary, thyme, broth, potatoes, and the peas and carrot mixture. Cook on high for 3 to 4 hours. Once done, remove the chicken breasts, shred them, then return them to the crock pot.
2
Using a small bowl whisk together the flour, cornstarch, and cream until smooth. Add the mixture to the crock pot. Cook on high for about an hour. If you want your soup to be thicker whisk the cornstarch and a bit of cold water together, then add ti to the warm soup.
3
For the puff pastry you want to follow the cooking directions on the package say. Cut your puff pastry into triangles, circles, or any shape you'd like, then bake.
4
When ready to serve top with parsley, if desired. Dish into soup bowls and top with a slice of the puff pastry. Enjoy!
OurKindofWonderful