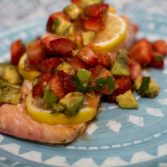 Strawberry Lemon Salmon with Strawberry Avocado Salsa
I've been on this lemon and strawberry kick lately – when something like this hits K gets pretty excited, as it means I'll be making up new recipes and cooking a lot as I experiment, haha. We were having fish a bit ago, and I was just so tired of the same fish we always have, which is the only way I'll eat it as I am not a seafood fan. Then, I created this – and even I love it!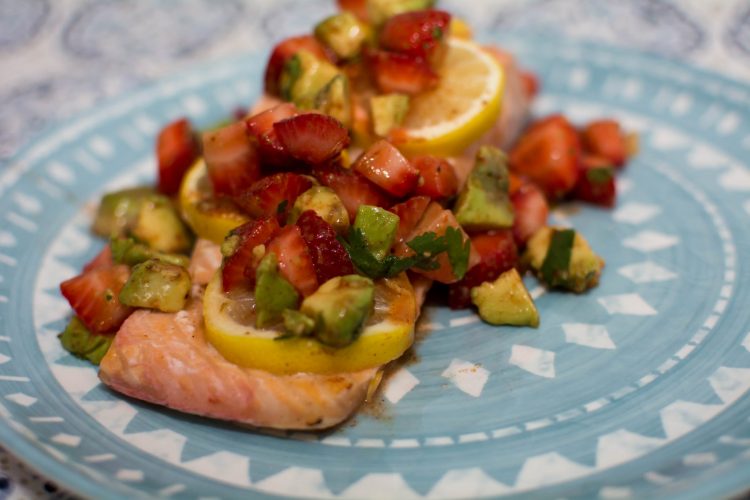 Ingredients
2 salmon fillets
2.5 to 3 lemons
1 Tbsp butter
1 to 1 1/2 cup strawberries
1 1/2 avocados
1/4 - 1/2 tsp. lime juice, or to taste
2-3 dashes of cinnamon
dash of cayenne pepper, more to taste
1-2 dashes of Tajin seasoning, more to taste
1/4 cup chopped cilantro
Instructions
1
Preheat your oven to 450 degrees.
2
Melt your butter and brush it over the top of your fillets.
3
Slice 2 lemons into thin wedges, removing the seeds. Arrange 1/12 of those lemons wedges onto the fillets. Squeeze the lemon juice from the remaining half a lemon onto your fish. For more lemon flavor add some extra lemon juice.
4
Quarter your strawberries. Take about 4 to 5 strawberries worth of quarters and put them on the fish next to the lemons. Sprinkle each fillet with a dash of cinnamon.
5
Cook at 450 for 12-15 minutes, depending on the thickness of your fillets.
6
While your fish is cooking you are going to make your strawberry and avocado salsa. Your strawberries should be quartered, now you need to cut up your avocado into bite size pieces; combine in a medium sized bowl.
7
Chop up your cilantro, then add it to your bowl with the strawberries and avocado.
8
Add lemon juice from half a lemon, about 1/4 to 1/2 tsp. lime juice, dash of cinnamon, dash of cayenne pepper, and dash of Tajin. Taste, then add more spices as needed. We usually add a bit more Tajin to ours.
9
When your fish is done remove the cooked lemon and strawberries from it. Then, serve topped with the strawberry avocado salsa - enjoy.
OurKindofWonderful