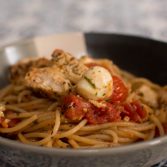 Pest Chicken Caprese Pasta
This pesto chicken caprese pasta was a huge hit with both A and K! It's a quick meal to make, tasty, and filling. And, it reheats well, which is always a plus around here. If you don't like mozzarella balls you could substitute for grated mozzarella cheese and still get the same sort of flavor.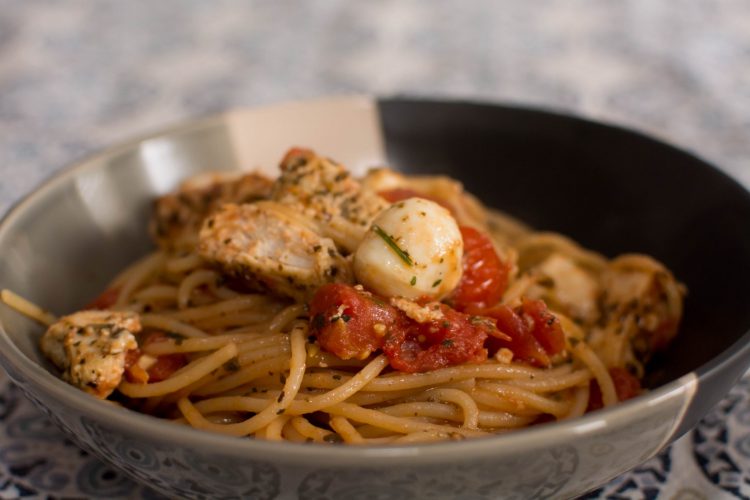 Ingredients
4 boneless, skinless, chicken breast cutlets
1/2+ cup pesto
pepper, to taste
1 pint grape tomatoes
1 (14.5 oz) can diced tomatoes
3 cloves garlic, minced
1 lb. pasta, cooked
1 lb. small mozzarella balls
1/3 cup fresh basil
2 cups water
parmesan cheese, for topping
red pepper flakes, for topping
Instructions
1
Coat the chicken in pesto and pepper to taste. Grill until the chicken is cooked fully, then set aside.
2
In a wok add 1 Tbsp. olive oil and heat over medium-high heat. Once it's hot add in the tomatoes and cook until their skin starts to crackle and soften. Remove from the wok and set aside.
3
In the same wok add in the diced tomatoes and the garlic. Simmer for just a little bit to let the flavors combine. Add in the cooked pasta, and mix to coat. If you need more liquid add in the 2 cups water, as needed.
4
Add in the cooked tomatoes, mozzarella balls, and fresh basil. Mix to combine.
5
Add in the sliced chicken, then mix all together. Top with grated parmesan, and red pepper flakes.
OurKindofWonderful