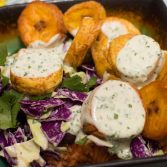 Brazilian Burrito Bowls
Our goal has been to try to have 3-4 vegetarian meals a month, which we started in March, and so far it's been a huge success! In the past I'd always hated going meat-less for any meal, as I'd find myself pretty much convinced I was starving and not going to make it until morning about 2 hours after eating. I still do, with some meals, but definitely not with these Brazilian Burrito Bowls. These are so good, and filling! And, if you've never worked with plantains before, which we hadn't, you want the green ones. Black marks on the skin means bruises on the fruit. They are also much harder to peal than bananas, and even though they look like bananas, they don't taste anything like them.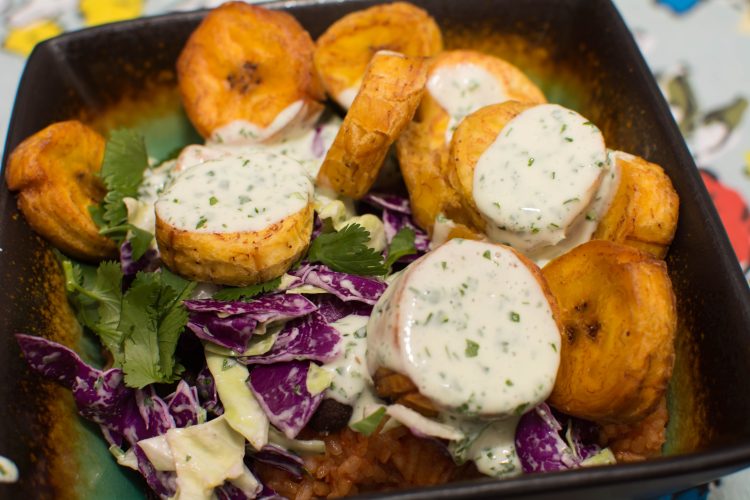 Ingredients
--For Rice--
1 1/2 cups uncooked long grain white rice
2 1/2 cups water
1 1/2 cups salsa of your choice (we used peach salsa)
3 Tbsp. tomato paste
2 Tbsp. oil
--For the Black Beans--
2 (14 oz each) cans of black beans
2 tsp. chili powder
2 tsp. cumin
--For the Slaw--
1/4 cup oil
1/4 cup water
1/2 cup cilantro leaves
1/2 - 1 tsp. minced garlic
1/2 tsp. salt
juice of 2 limes (about 4 Tbsp.)
1/2 cup sour cream
4 cups shredded cabbage
--For Plantains--
4 plantains
olive oil for frying
Instructions
1
For the Rice: Place all ingredients in a pot on the stove, bring to a boil, then simmer until done, about 20 minutes.
2
For the Black Beans: Add the black beans and spices to a small saucepan, heat on medium-low heat as your rice is cooking. If they get too clumpy add a little water or oil as needed.
3
For the Slaw: Grab your food processor, add the oil, water, cilantro, garlic, salt, lime juice, and sour cream. mix until it's almost all smooth. Grab your chopped cabbage and put the food processor sauce over the cabbage, mix to combine. There should be some leftover sauce, save this in a separate container.
4
For the Plantains: Peel your plantains, then chop them into about 1 inch wide chunks. Get a frying pan and put about 1 - 2 Tbsp. of olive oil in the pan, then turn the heat to medium high. Once heated, add your plantains, and fry for a few minutes on each side. They'll turn a dark yellow as they're getting done.
5
Put it all Together: Serve by layering rice on the bottom, then beans, slaw, and topping with plantains. Drizzle with the extra sauce you set aside as desired, and top with more chopped cilantro if desired. Recipe adapted from: http://pinchofyum.com/spicy-brazilian-burrito-bowls
OurKindofWonderful