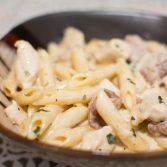 Cajun Chicken Sausage Alfredo
K absolutely loved this meal, like, not even kidding you, he kept raving about it. We were making it for him to take for lunch, but he pretty much begged to eat it right then and take something else. He NEVER does that. This is a one-pot meal, so it's super easy. You definitely want to try it!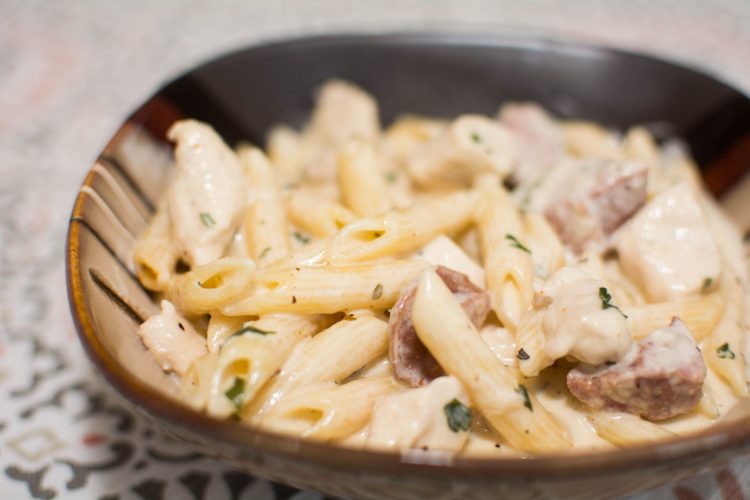 Ingredients
4 Tbsp. olive oil
1 lb. chicken, cut into bite sized pieces
black pepper, to taste
14 oz sausage, cut into bite size pieces
1 - 2 tsp. minced garlic
1 quart chicken broth
2-1/2 cups heavy cream
1 lb. penne pasta
1-1/2 Tbsp. Cajun seasoning (plus more for topping)
4 oz. freshly grated parmesan cheese
chopped, dried parsley, for topping
Instructions
1
Tenderize your chicken, then season with pepper, and brown in olive oil in a large pot over medium high heat.
2
Add in the sausage, continue to cook until it starts to lightly brown.
3
Stir in garlic, continue cooking for a couple minutes.
4
Add in the chicken broth, heavy cream, pasta, and cajun seasoning. Stir together and bring to a boil over medium-high heat.
5
Reduce the heat to low and cover, letting it cook for 15-20 minutes, or until the pasta is cooked and tender.
6
Remove the pot from heat and stir in parmesan cheese. Top with chopped parsley and sprinkle with additional cajun seasoning to taste.
OurKindofWonderful