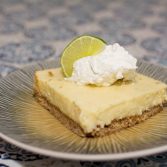 Key Lime Pie Bars
I'd never had a key lime pie I liked, but K loves them, so every once in a while I try to find a good recipe. But, no such luck. Then, I stumbled upon these key lime pie bars, and they are soooo good! Even I loved them! They are quite sweet, so it's best to have a glass of milk to help tame it down a bit, but they're phenomenal. They also hold up really well in the fridge for a few days, which is great! You'll want to eat them all in one sitting, and if you're like me, they'll be too sweet, so you'll put them back in the fridge and look forward to having some over the next few days.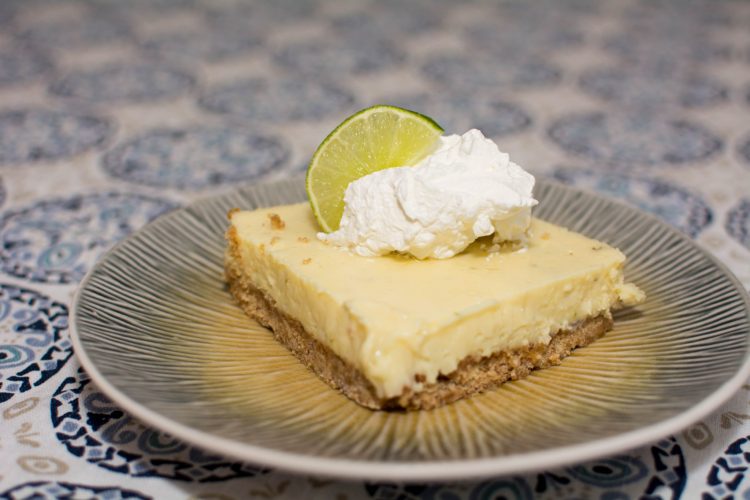 Ingredients
--Crust--
1¼ cup graham cracker crumbs
⅓ cup sugar
6 Tbsp. butter, melted
cooking spray
--Filling--
3 egg yolks
2 tsp. lime zest
⅔ cup lime juice
1 (14 oz can) sweetened condensed milk
¼ cup sugar
--Topping--
½ cup heavy cream
2 Tbsp. sugar
limes, for garnish
Instructions
1
Preheat oven to 350 degrees.
2
Line an 8"x8" pan with foil and spray the foil with cooking spray.
3
In a bowl combine the graham cracker crumbs, sugar, and butter. Mix until well combined.
4
Pour the graham cracker mixture into an even layer in the bottom of the pan and firmly press it all in.
5
Bake the crust for 10 minutes.
6
While the crust is baking, work on the filling.
7
Grab another bowl, beat the egg yolks with a mixer until they are smooth and creamy ~ 2-3 minutes. Slowly pour in the condensed milk, and continue to beat the mixture. Add in the lime juice, lime zest, and sugar, continuing to beat until completely smooth.
8
Pour the filling over the crust. Bake for 15 minutes, or until the filling is just set.
9
Cool the bars completely, then refrigerate for at least 4 hours, or for up to 3 days.
10
Before serving cut the bars into 9 pieces, and prepare the whipped topping.
11
For the topping, put the heavy cream in a bowl and beat with a hand beater until the cream forms still peaks. Then fold in the sugar.
12
Top the key lime pie bars with whipped cream and lime slices.
OurKindofWonderful