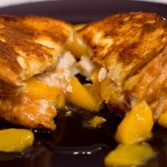 Peaches and Cream French Toast
French toast is a breakfast classic, and is amazing all on its own, but it's nice to dress it up every once in a while. Peaches and cream french toast is so delicious, and it a nice change from the regular, classic french toast. You definitely want to give it a try. It would be amazing with raspberries too, blueberries, probably any fruit!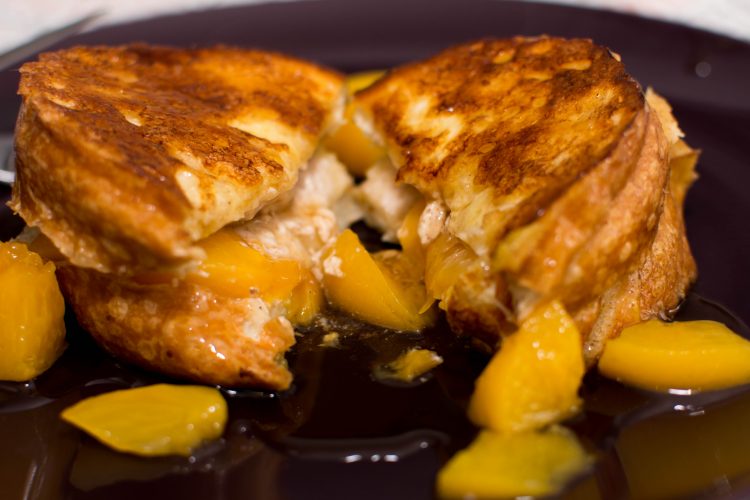 Ingredients
--Filling--
4 oz. cream cheese, softened
1 Tbsp. powdered sugar
1/2 tsp. ground cinnamon
1/2 tsp. vanilla extract
1 cup sliced peaches (fresh or canned is fine)
--French Toast--
4 large eggs
1/2 cup milk
1 tsp. vanilla extract
1/2 tsp. cinnamon
diced peaches and maple syrup, for serving
Instructions
1
For the Filling: In a small bowl mix cream cheese, powdered sugar, cinnamon, and vanilla extract until smooth. Spread the cream cheese mixture on slices of bread, then top with peach slices. You'll be making two "sandwiches" this way.
2
In a shallow bowl beat the eggs, milk, vanilla, and cinnamon. Dip the sandwiches in the egg mixture, being sure to dip each side.
3
Heat a large skillet or griddle to medium-high heat. Cook French toast sandwiches, on both sides, until golden brown, about 4-5 minutes per side. Serve warm with diced peaches and maple syrup.
4
Recipe by: https://www.twopeasandtheirpod.com/peaches-and-cream-stuffed-french-toast/
OurKindofWonderful