Slow Cooker Kuna Pao Chicken
K and I love Kung Pao Beef, so when I found a recipe for kung pao chicken we had to try it! This isn't as sweet as I'm used to, so if you like sweeter like me you can add in some more honey, along with some brown sugar. K loved it as is, and I loved mine sweetened up. I also love the veggies, so I added extra since it's pretty much my favorite part. You can also use peanuts instead of cashews if you want. This dish is so versatile, you definitely want to try it!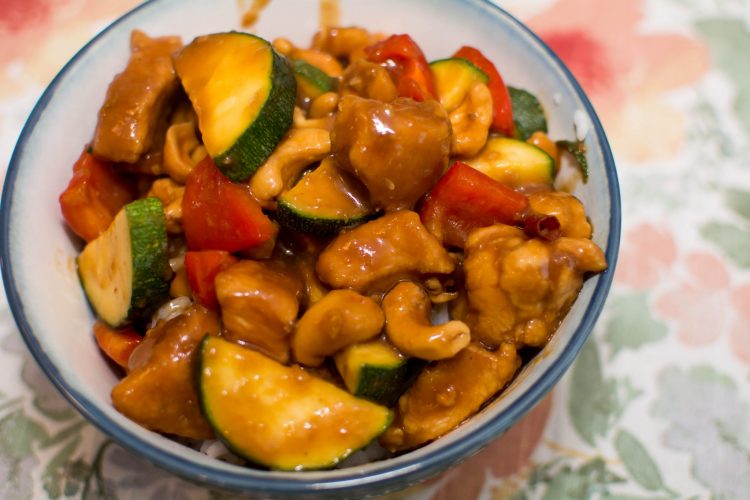 Ingredients
⅓ cup cornstarch
¼ tsp salt
¼ tsp black pepper
1 lb. boneless, skinless chicken breasts (about 2 pieces), cut into bite-sized chunks
1 Tbsp. olive oil
4 - 6 dried red chili peppers
⅔ cup roasted cashews
1 red bell pepper, chopped into bite-sized pieces
1 medium zucchini, chopped into halves
--Sauce (double if you prefer more sauce--
½ cup low-sodium soy sauce
½ cup water
3 Tbsp. honey
2 Tbsp. hoisin sauce
3 cloves garlic, minced
1 tsp. fresh ginger, grated
¼ - ½ teaspoon dried red pepper chili flakes
2 Tbsp. cornstarch
2-3 Tablespoons water (plus more as needed to thin out the sauce)
cooked rice, for serving
Instructions
1
Add the cornstarch, salt, and pepper to a large zip-loc bag. Add in the chicken - toss to coat.
2
Heat a large skillet over medium-high heat. Cook the chicken until it's lightly browned on each side, about 2-3 minutes. Once browned, put the chicken in the slow cooker.
3
In a medium bowl whisk together the soy sauce, water, honey, hoisin sauce, garlic, ginger, and red pepper chili flakes. Once mixed pour the sauce over the chicken in the crock pot. Cover and cook on low for 2.5 - 4 hours, or on high for 1.5 - 3 hours.
4
30 minutes before serving, which together the cornstarch and water in a small bowl. Once mixed stir it into the slow cooker. Add in the dried red chili peppers, red bell peppers, zucchini, and the cashews. Cover and cook on high for another 20-30 minutes, or until the veggies are tender and the sauce has thickened. (You can add more water to get the sauce to your desired consistency if needed)
5
Sprinkle with sesame seeds, green onions and serve over rice.
OurKindofWonderful