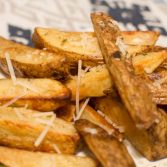 Baked Potato Wedges
We aren't very creative with potatoes, it's mostly been baked potatoes or mashed potatoes, but one day neither of those options sounded good, so I found this recipe for these amazing baked potato wedges. Seriously, these are awesome. We've had them with everything from steak, to lamb, to fish. They are so versatile, and are pretty quick to whip up. They are great alone, or you can make them and use them for fries with hamburgers and pair them with fry sauce. We've also used these for cheese fries, and they're phenomenal.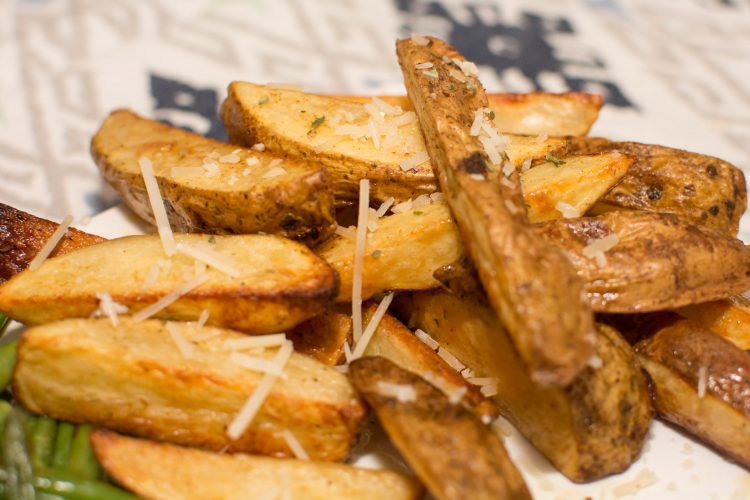 Ingredients
4 russet potatoes, rinsed
1/4 cup olive oil
1/4 tsp sea salt
1/4 tsp garlic powder
1/2 tsp paprika
1/4 tsp black pepper
2 Tbsp dried parsley
1/4 cup grated parmesan cheese
Instructions
1
Preheat oven to 450 degrees.
2
Cut potatoes into wedges. You'll want to each potato in half, then make at least 3 wedges from each half, sometimes more, depending on the size of the potato.
3
Combine the salt, garlic powder, paprika, and black pepper in a large mixing bowl. Add potatoes and mix to coat with the spices, then add the olive oil and toss to coat.
4
Lightly spray a baking sheet, then place the potatoes on the baking sheet, being sure to spread them out so they aren't overlapping.
5
Bake for 30-35 minutes. Once done, sprinkle with parsley and parmesan cheese, then serve and enjoy.
OurKindofWonderful