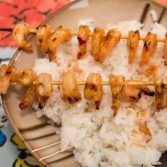 Sweet and Spicy Honey Grilled Shrimp with Coconut Rice
K is a lover of pretty much all foods, so when he dubs one a favorite you know it has to be good. I don't like shrimp, so we'll make part of this with shrimp, and part with chicken, and it's so good. Paired with the coconut rice and it's perfection.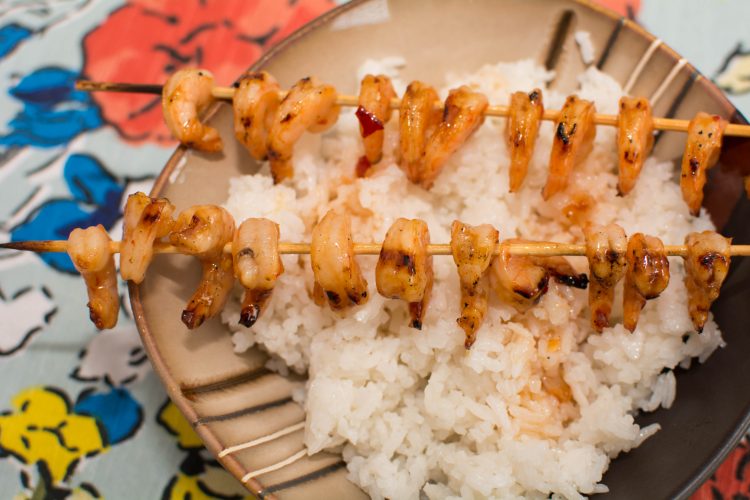 Ingredients
2-2 1/2 lb. raw, shelled, de-veined shrimp
1 Tbsp. minced garlic
1/4 - 1/2 tsp. ground ginger
1/4 cup sweet chili garlic paste
1 cup honey
1 cup lime juice
1/2 tsp. salt
1 tsp. pepper
1 cup canola oil
--Coconut Rice--
2 cups white rice
1 can coconut milk
2 cups water
1 tsp. salt
splash of white vinegar
Instructions
1
Rinse shrimp in cold water and place in a large Ziploc bag. Combine garlic, ginger, chili paste, honey, lime juice, salt, pepper, and oil in a large bowl. Whisk thoroughly. Set aside 1 cup of the marinade. Pour remaining mixture over shrimp and refrigerate for at least 24 hours and up to 48 hours.
2
When ready to cook, thread shrimp onto skewers. Also, start your rice.
3
If using bamboo skewers you'll want to soak them in water for at least 30 minutes before skewering anything. Preheat outdoor grill (they get smokey, so you'll prefer to do these outside). When the grill is hot, reduce heat to low and quickly place all skewers over the heat. Brush with reserved marinade. When they've cooked for 1 1/2-2 minutes, quickly flip them over and brush or drizzle with remaining marinade. Cook for another 1 1/2-2 minutes. Shrimp cook quickly, so be sure to watch them.
4
Remove skewers from grill and remove shrimp from skewers. Pile them on a plate, drizzle with any remaining reserved marinade, and squeeze the juice from a lime all over them. Serve on top of coconut rice. You can also use chicken instead of shrimp, and it's just as tasty.
6
Combine rice, coconut milk, water, salt, vinegar, and sugar in a saucepan and bring to a boil Turn heat to low and cover for 20 minutes or until most of the liquid is absorbed. Allow to stand 5 minutes, then serve.
OurKindofWonderful