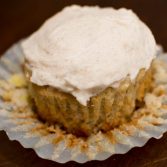 Banana Muffins with Cinnamon Frosting
We are notorious for buying bananas, and wasting said bananas when they go bad too quickly. As is no surprise to anyone, that was about to happen again, but I told K no way, we were actually going to bake something, and freeze the rest. Man, are we glad we did! These banana muffins with cinnamon frosting are so, so, so good! And, now we have bananas frozen that we can use to make these again and again :].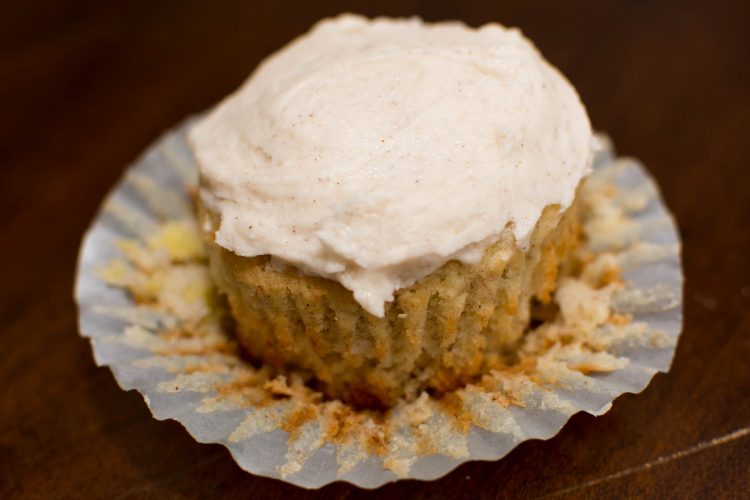 Ingredients
2 cups all purpose flour
2 tsp. baking powder
pinch of salt
pinch of allspice
1/2 tsp. cinnamon
1 1/2 cup granulated sugar
3/4 cup mik
4 eggs, lightly beaten
11 oz butter, melted
4 bananas, mashed
--Frosting--
1/2 cup cream cheese, softened
4 Tbsp. butter, softened
1/2 tsp. ground cinnamon
2 cups powdered sugar
Instructions
1
Preheat oven to 400 degrees.
2
Line your muffin tins with paper liners, or spray well with nonstick spray. Set aside.
3
Sift together the flour, baking powder, and salt. Mix together in a bowl. Stir in the sugar, allspice, and cinnamon.
4
In a separate bowl whisk together the milk, eggs, and butter. Once combined slowly stir into the flour mixture, without beating. Fold in the mashed bananas.
5
Fill the muffin tins about 3/4 full with batter, then bake for 20 minutes, until the muffins have risen and turned golden. Cool on a wire rack.
7
Beat the cream cheese, butter, cinnamon, and powdered sugar together in a bowl until smooth and creamy. Top each muffin with frosting, then chill for about 15 minutes to allow the frosting to set up.
OurKindofWonderful