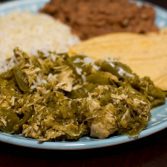 Crockpot Chicken Chile Verde
K loves all Mexican food, it's more hit and miss with me, so I try to plan some meals that I know he'll love for lunches, so he can enjoy them, and I don't feel obligated to eat them. This was one of those meals. It actually smelled really good, but all of those peppers were a bit intimidating. K said this crockpot chicken chile verde is amazing, and he tends to be spot on. You should definitely give this a try!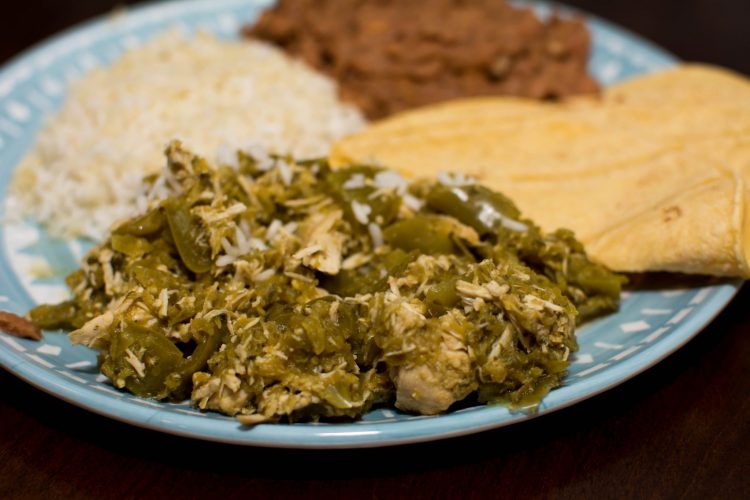 Ingredients
2 lbs tomatillos husked, washed, and cut in half
10 medium Anaheim peppers, cut in half, seeds removed
1 jalapeno pepper
1 cup diced onion
1 tsp. minced garlic
2 cups roughly chopped cilantro
1 Tbsp. cumin
1 tsp. paprika
zest of 1 lime
juice of 1 lime
1/2 tsp. sugar
1/2 tsp. salt
1/2 tsp. black pepper
2 cups chicken broth
2 lbs. boneless skinless breast
tortillas, beans, rice, and salsa for serving
Instructions
1
Preheat the oven to 450 degrees.
2
Place the tomatillos and Anaheim peppers onto a large, greased, baking sheet. Roast until golden, about 5-7 minutes, and until peppers are a bit charred.
3
In a blender combine 6 peppers (or 12 pepper halves), tomatillos, jalapeno, onion, garlic, cilantro, cumin, paprika, lime zest, lime juice, and sugar. Blend until smooth.
4
Dice the remaining Anaheim peppers. Pour the salsa verde you just made, chicken broth, diced Anaheim peppers, and chicken breasts into the slow cooker. (Be sure to use a meat mallet to tenderize the chicken first).
5
Cook on high for 3-4 hours, or on low for 6-8 hours.
6
Shred chicken, then return to the crock pot for an additional 15 minutes. Serve warm with tortillas, beans, rice, and salsa, if desired.
OurKindofWonderful