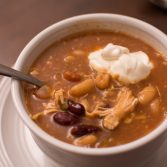 BBQ Chicken Chili
When I first heard of BBQ Chicken Chili I turned my nose up at it. I'm not a big fan of BBQ sauce, and I just assumed that's what this would taste like. WRONG. Not like BBQ sauce at all. This soup is delicious, and just the right amount of sweet. We pair it with some sour cream and tortilla chips, and it's the perfect combination. Not to mention you pretty much just dump it all in a crock pot to cook and then enjoy – easiest soup ever.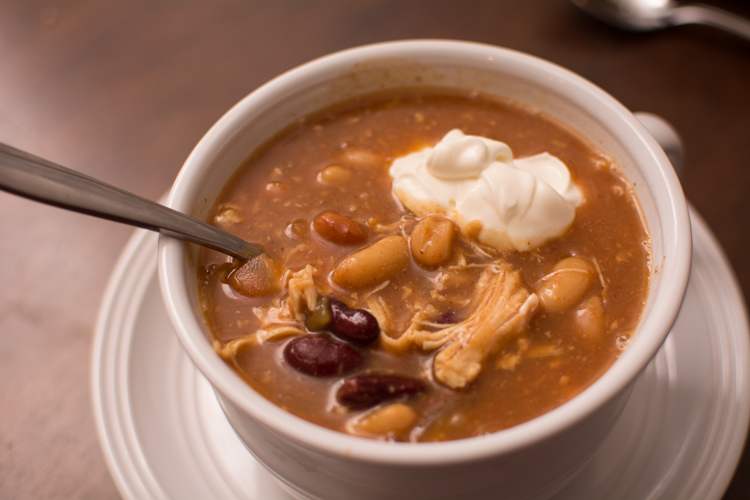 Ingredients
1 pound chicken breasts
1 tablespoon olive oil
4 garlic cloves, minced
1 small onion, chopped
1/2 cup ketchup
3 tablespoons brown sugar
2 teaspoons yellow mustard
2 tablespoons apple cider vinegar
2 tablespoons Worcestershire sauce
1 (16 oz) can cannellini beans, undrained
1 (16 oz) can kidney beans, undrained
1 (16 oz) can pinto beans, undrained
1 4 oz. can green chilies
2 teaspoons chili powder
1 teaspoons ground cumin
1 teaspoon smoked paprika
2 teaspoons liquid smoke
1 teaspoon salt
1/2 teaspoon pepper
1 14.5 oz. can chicken broth mixed with 1 tablespoon cornstarch
Instructions
1
Rub the chicken with olive oil and add it to your slow cooker. Add the rest of the ingredients.
2
Cook on low 6-8 hours or on high 3-4 hours.
3
When chicken is tender and almost falling apart take it out of the slow cooker and, using two forks, shred the chicken. Once shredded place back in the slow cooker. Cook an additional 20 minutes.
4
Serve with sour cream, cheese, avocados, whatever you want!
5
Recipe by: http://carlsbadcravings.com/smoky-bbq-chicken-chili-slow-cooker-stove-top/
OurKindofWonderful