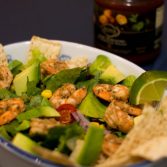 Shrimp Taco Salad
Taco salads have become a bit of a staple food over here, as they're so quick to make. But, they can get boring fast. So, shrimp taco salads were born! These only solve the boring issue for K, as I don't do shrimp, but he loved them! I'm still looking for ways to spice up taco salads for me, but in the meantime, K has a nice way to spice his up :].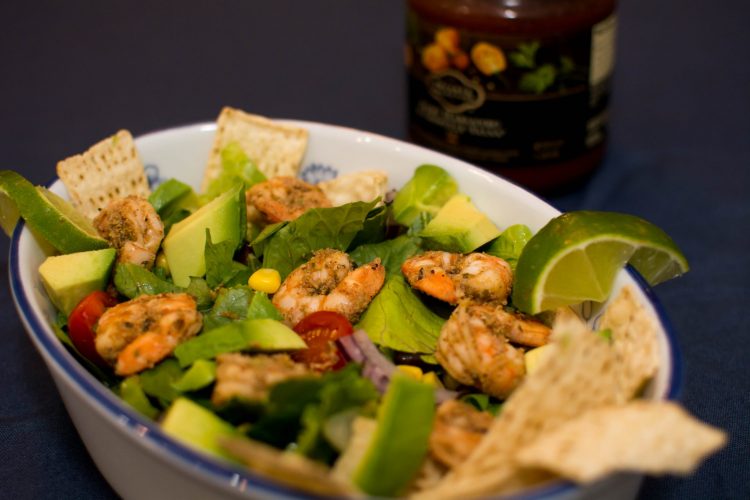 Ingredients
2 Tbsp. olive oil
1 lb. medium size shrimp, peeled and de-veined
½ tsp. black pepper
1½ tsp. ground cumin
1½ tsp. dried oregano
1 tsp. chili powder
1 large head romaine lettuce, chopped
1 pint cherry tomatoes, sliced
½ red onion, finely sliced
1 cup yellow corn kernals
1 cup black beans, rinsed
¼ cup fresh cilantro, minced
2 large avocados, diced
1 lime, juiced
salsa, for topping (or you can use a salad dressing, etc)
tortilla chips, for serving
Instructions
1
Heat a medium sized skillet over medium-high heat, then add in the oil and the shrimp.
2
Season with salt, pepper, cumin, garlic powder, oregano, and chili powder. Sauté the shrimp until it turns pink, so about 2 minutes. Remove from the heat.
3
In a large bowl combine shrimp, romaine lettuce, cherry tomatoes, onion, corn, black beans, cilantro, and avocado and lime juice. Mix until combined.
4
Serve with tortilla chips and salsa if desired.
OurKindofWonderful