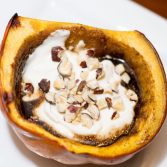 Breakfast Acorn Squash with Greek Yogurt, Hazelnuts, and Honey
I know this doesn't sound like the most appealing breakfast recipe ever, but it is oh so tasty, surprisingly. Grab an acorn squash when they're in season, and be sure to give this a try. We paired ours with some fresh fruit and milk, and it made for a great start to our day!
Ingredients
1 medium acorn squash
1 tsp coconut oil
1/2 tsp cinnamon
2 Tbsp brown sugar
1 cup greek yogurt, divided
2 tsp. honey
2 Tbsp chopped hazelnuts (may substitute for another type of nut)
Instructions
1
reheat oven to 400 degrees F. Line a baking sheet with foil.
2
Cut acorn squash in half lengthwise and scrape out seeds. Place halves facing up on foil-lined baking sheet. In a small bowl, mix together coconut oil and cinnamon. Use your fingers to rub each half of the flesh of the acorn squash with the coconut oil and cinnamon mixture. Place 1 teaspoon of brown sugar in the middle of each half and rub into the squash. Bake for 45 min-1 hour or until squash is fork tender.
3
Once squash is done, allow to cool for 5-10 minutes then place on plates or put in tubberwear if you are planning to enjoy this later. When ready to serve, make sure squash is warm then scoop 1/2 cup yogurt into each squash half. Drizzle each with a teaspoon of honey and pecans. Serves 2. Enjoy!
OurKindofWonderful