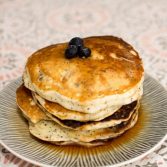 Sour Cream, Blueberry, Lemon, Poppyseed Pancakes
Pancakes have always been one of our least favorite breakfast meals, but lately we've been trying new recipes, tweaking them, and we finally have some pancakes that we love! The few recipes we tried before were a mess, all doughy even when the outside was burnt from cooking so long, etc, so this is kind of a huge accomplishment for us, haha. Whip some of these up, and enjoy!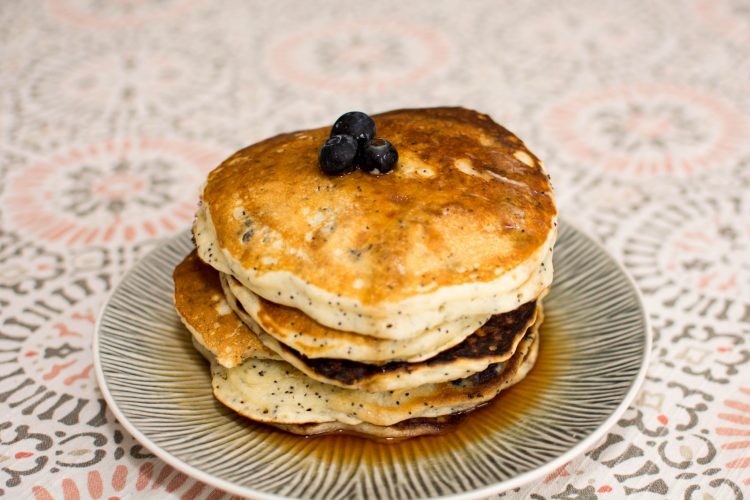 Ingredients
2 cups all purpose flour
1/4 cup sugar
2 tsp. baking powder
3/4 tsp. baking soda
pinch of salt
2 Tbsp. poppyseeds
1-2 lemons, zested (depending on how much lemon flavor you like)
1 1/4 cup milk
1 cup sour cream
2 large eggs
5 Tbsp. unsalted butter, melted
1-2 lemons, juiced (depending on how much lemon flavor you like)
1 1/2 cups fresh blueberries
Instructions
1
If using a griddle, preheat it to 400 degrees.
2
Using a large mixing bowl whisk together the flour, sugar, baking powder, baking soda, salt, and poppyseed.
3
In a separate bowl whisk together the milk, sour cream, eggs, lemon juice, and lemon zest until mixed thoroughly.
4
Pour sour cream mixture into flour mixture and whisk just until combined (there should still be large lumps and some flour streaks). Immediately pour in blueberries and melted butter and fold just to mix.
5
Pour a generous 1/3 cup of batter onto the griddle or pan - cook until the bottom is golden brown, then flip and cook until both sides are golden. Do so with all of the batter. Serve immediately and top with syrup.
OurKindofWonderful