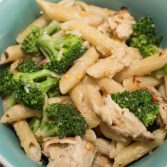 Cajun Chicken Alfredo with Broccoli
If it isn't obvious yet, we love fettuccini alfredo, or really any alfredo pasta, so we make many different variations of it. I love that we have so many different ones we rotate through – it helps us to not get sick of it.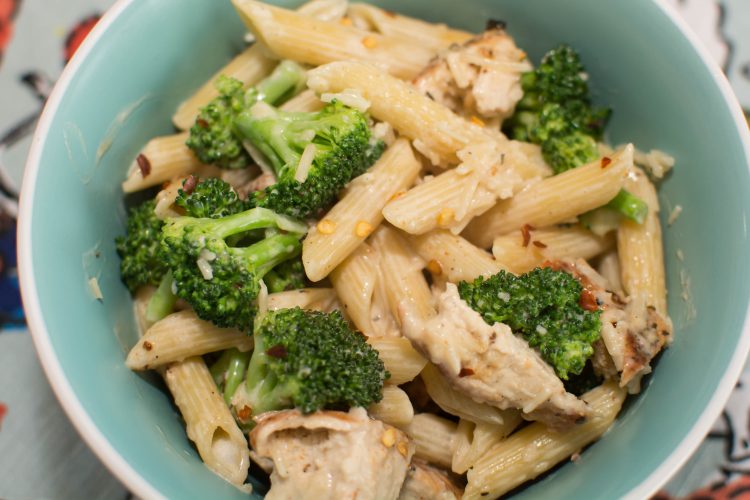 Ingredients
1 lb. penne pasta
2 cups broccoli florets
1 lb. chicken breast
2-3 Tbsp. Cajun seasoning
2 Tbsp. olive oil
2 Tbsp. butter
3 cloves garlic, minced
1/2 cup white cooking wine
2+ cups heavy cream
8+ oz shredded Parmesan cheese
Lemon Pepper Seasoning
Red Pepper flakes, if desired
Instructions
1
Grab a large pot, bring 4 quarts of water to a boil, then add the pasta and cook until al dente. Strain the pasta, then reserve the water it cooked in.
2
Return the pasta water to the pot, and bring to a boil again. Add the broccoli and blanch it just under tender and bright green, which is about 1-2 minutes. Immediately after drain the broccoli and put it into a bowl of ice water. This will stop it from continuing to cook, and will help it to keep its bright green color.
3
Season your chicken with lemon pepper seasoning, then grill until cooked through. Cut into strips or bite size pieces.
4
While the chicken cooks grab a skillet and melt the butter in it over medium-high heat. Stir in the garlic and let cook for about 30 seconds.
5
Add the cooking wine, and whisk to combine. Simmer until the sauce is reduced by half. This should only take a couple of minutes.
6
Whisk in the cream and continue to simmer until the sauce begins to thicken. Gradually add in the Parmesan cheese.
7
Add the pasta to the skillet with the sauce and gently stir to mix. Add in the broccoli and chicken. Garnish with red pepper flakes and more parmesan cheese as desired. Be sure it's all heated through, then serve.
OurKindofWonderful