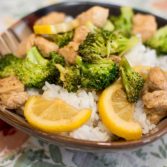 Chicken, Broccoli, and Lemon Stir Fry
This is a recipe we made when we first got married, then completely forgot about. We found it again recently and made it for work lunches, and liked it just as much as we did when we first made it! I love how easy and filling it is! It's definitely not the most exciting meal, with some tamer flavors, but every once in a while that's just what we need.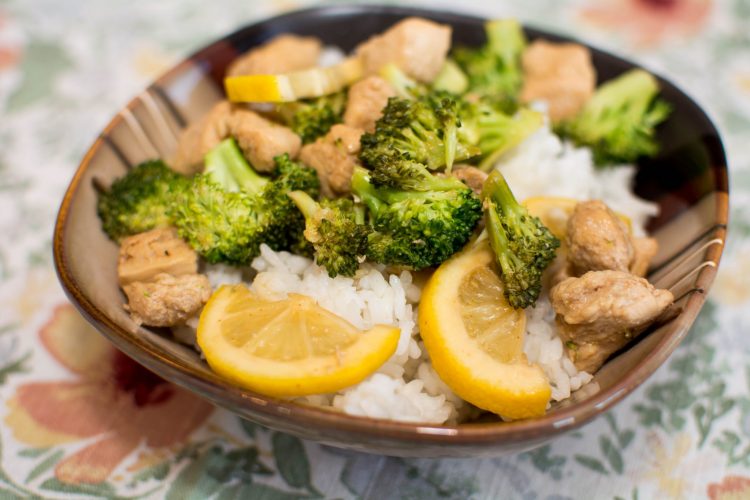 Ingredients
3 Tbsp. soy sauce
2 Tbsp. rice vinegar
2 Tbsp. honey
2 cloves garlic, minced
1/4 to 1/2 teaspoon crushed red pepper
1-1/2 pounds chicken breasts, cut into half inch thick slices
2 Tbsp. canola oil
1-1/2 pounds broccoli, sliced into 1/4 inch thick florets
1 small lemon, halved lengthwise and thinly sliced crosswise, seeds removed
2 teaspoons cornstarch, dissolved in 1 tablespoon water
2 Tbsp. sesame seeds
Instructions
1
In a large, shallow bowl, whisk together soy sauce, 3 tablespoons water, vinegar, honey, garlic, and crushed red pepper. Pour half of the mixture into another bowl; reserve. Place chicken in remaining mixture and let it marinate for at least 15 minutes.
2
Grab a wok, heat 1/2 tablespoon oil over high heat. Add half the chicken; cook until brown and cooked through, roughly 2 to 3 minutes. Transfer chicken to a plate. Repeat with another 1/2 tablespoon oil and remaining chicken. Wipe skillet with a paper towel.
3
Heat the remaining tablespoon of oil in skillet over medium-high heat. Cook broccoli and lemon, tossing often, until broccoli is bright green, which will take about 3 minutes. Add 1/2 cup water; cook until broccoli is tender and lemon is translucent, about 6 minutes.
4
Add reserved marinade, cornstarch mixture, chicken, and any accumulated juices from plate. Bring to a boil; cook, stirring until thickened, 1 minute. Sprinkle with sesame seeds. Serve over rice.
OurKindofWonderful