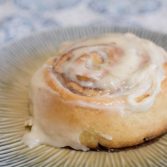 Copycat Cinnabon Cinnamon Rolls
Cinnamon rolls are a huge hit at our house, and pretty much with everyone I know. We do different variates, from blueberry cinnamon rolls to some with lemon and raspberry, but sometimes the traditional, classic ones just hit the spot. This recipe is perfect for that! These are so easy, and delicious. If you like a lot of frosting you'll want to double the frosting recipe, but we did just find with a single batch. They also reheat really well, we do 2 minutes on power 4, and they are perfect!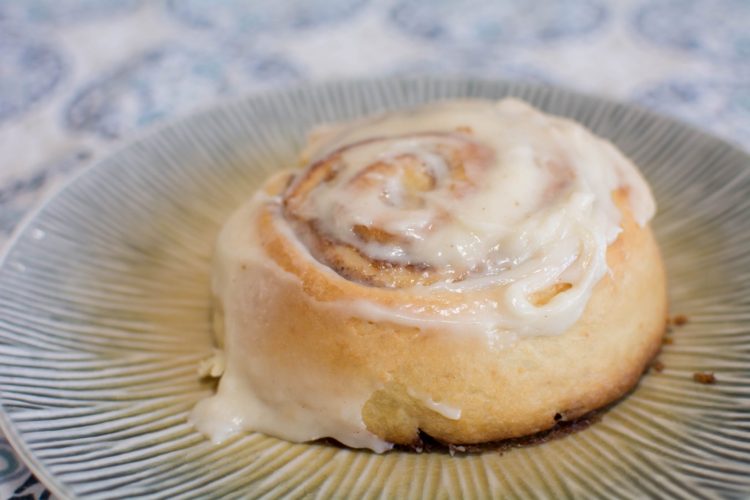 Ingredients
--Dough--
3 tsp. active dry yeast
1 cup lukewarm milk
1/2 cup granulated sugar
1/3 cup unsalted butter, softened
1 tsp. salt
2 eggs
4 cups all-purpose flour
--Filling--
1 cup brown sugar, packed
3 Tbsp. cinnamon
1/3 cup unsalted butter, softened
--Cream Cheese Icing--
6 Tbsp. unsalted butter, softened
1 1/2 cups powdered sugar
1/4 cup cream cheese, softened and at room temperature
1/2 tsp. vanilla extract
Instructions
1
Preheat the oven to 350 degrees.
2
Using a bowl dissolve the yeast in the warm milk. Let it sit for about 5 minutes; it should start to get frothy.
3
Grab your mixer and add in the sugar, butter, salt, eggs, and flour. Mix.
4
Pour the yeast mixture into the bowl of your mixer, and mix well using the dough hook.
5
Spray a large bowl with nonstick spray, then place the dough inside. Let it rise in a warm place for about an hour, or until the dough has doubled.
6
Combine the brown sugar and cinnamon in a medium sized bowl, set aside.
7
Grease a large baking sheet or baking dish with cooking spray. Roll your dough out onto a lightly floured surface until it's around 16 inches long by 12 inches wide, give or take. You want to keep the dough around 1/4 inch thick as well.
8
Spread the 1/3 cup butter evenly over the dough, then sprinkle the cinnamon sugar evenly over the top.
9
Working carefully start at the long edge, and roll the dough down to the bottom edge, rolling tightly as you go so the filling doesn't fall out when you cut it.
10
Cut the dough into 1 1/2 inch slices and put the slices on the greased baking dish/baking sheet. Cover the pan with a kitchen towel, then let them rise for another 30-45 minutes, or until doubled in size.
11
Place the baking sheet/pan in the oven and bake the cinnamon rolls for 20 minutes, or until they are golden brown. Cooking times can vary, so watch them closely.
12
As the cinnamon rolls bake make the icing. Mix all of the icing ingredients together and beat until smooth using an electric mixer.
13
When the rolls are done top them with a generous portion of icing.
OurKindofWonderful