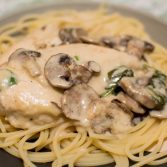 Creamy Parmesan Garlic Mushroom Chicken
I don't like mushrooms, so I'm not even going to pretend I tried this. But, K did, and he loved it! As did A. We are so lucky, she isn't a picky eater at all so far, and we're really hoping it stays that way. I'm hoping she isn't picky like me, so I make sure to give her some of the gross food K likes, and so far, she likes it too!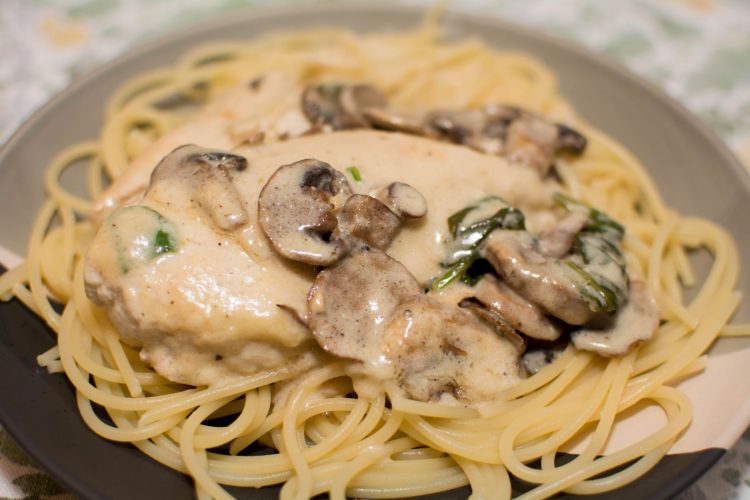 Ingredients
4 boneless, skinless, chicken breasts, pounded thin
2 Tbsp. olive oil
salt & pepper
8 oz sliced mushrooms
--Sauce--
¼ cup butter
2 cloves garlic, minced
1 Tbsp. flour
½ cup chicken broth
1 cup heavy cream (or half and half)
½ cup grated parmesan cheese
½ tsp. garlic powder
¼ tsp. pepper
½ tsp. salt
1 cup spinach, chopped
Pasta, for serving
Instructions
1
Grab a large skilled, add in the olive oil and cook the chicken on medium high heat until brown on each side, and no longer pink in the center; about 3-5 minutes.
2
Remove the chicken and set aside. In the same pan add the sliced mushrooms, and cook just until tender. Remove those also and set aside.
3
Cook some pasta, according to package directions. Any kind of noodles will work.
4
While the pasta is cooking work on the sauce. Use the same pan, and add in the butter, cooking on medium heat to melt it. Once melted add in the garlic, and cook until tender.
5
Whisk in the flour and stir until it thickens. Whisk in chicken broth, heavy cream, parmesan cheese, garlic powder, pepper and salt. Add the spinach and let simmer until it starts to thicken and spinach wilts. Add the chicken and mushrooms back to the sauce and serve over pasta.
OurKindofWonderful