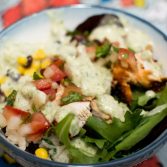 Chicken Burrito Bowls
These bowls are so good, but the dressing is spicey! Go sparse on the dressing, and add more as needed, or your mouth will be on fire and you won't be able to enjoy these chicken burrito bowls nearly as much. We love these, and both of us have requested them over and over, which I don't see changing anytime soon.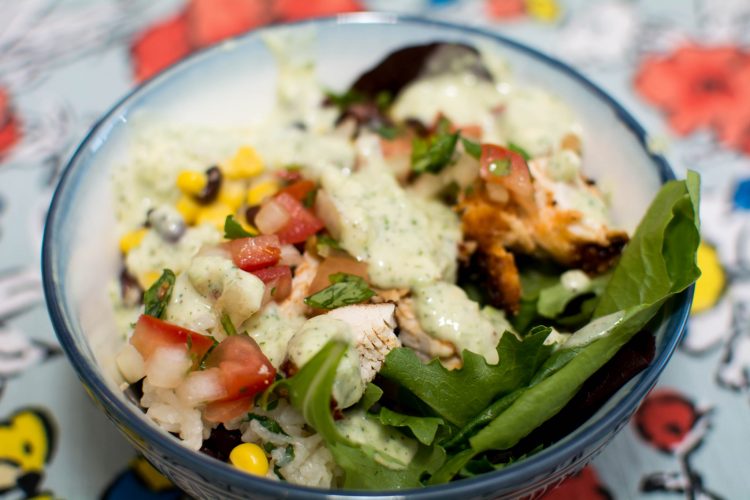 Ingredients
1 lb. boneless, skinless, chicken breasts
2 Tbsp. taco seasoning
3 Tbsp. white flour
2 Tbsp. butter
1 can corn
1 can black beans
2 cups white rice
1 bunch fresh cilantro, divided
1 - 1/2 tsp. minced garlic, divided
2 cups chicken stock (may use broth instead)
2 large hearts of Romaine lettuce
4 limes (divided)
8 oz sour cream (divided)
--Dressing--
2 Tbsp. dry Ranch Dressing mix
1 tomatillo
1/2 - 1 jalapeno, seeds removed
1/2 cup olive oil mayo
Instructions
1
Trim fat from chicken breasts, then tenderize. In a bowl, stir together the taco seasoning and flour, then dip each piece of chicken into the mixture, so they are coated well.
2
Grab a large skillet, and heat to medium-high heat. Add the butter to the skillet. Once melted, add the chicken, in a single layer. Cook for about 3 minutes, then flip and cook for another 4-6 minutes. Be sure chicken is cooked through, if not cook a bit longer. Set aside.
3
As the chicken cooks work on the rice. Combine the rice, chicken stock or broth, and 1/2 tsp. minced garlic in a pot over high heat. As soon as it begins to boil reduce the heat, cover with a lid, and continue to cook until the rice is cooked through.
4
Once the rice is cooked, tender, and no liquid remains stir in 3 Tbsp. lime juice and 3 Tbsp. packed, finely chopped cilantro.
5
Cut the chicken into bite sized pieces, and rip the lettuce, or cut, into small, thin pieces.
7
Zest and juice the last lime, then add the juice and zest to the blender, along with the prepared ranch seasoning mix, 1 teaspoon minced garlic, chopped tomatillo, and ⅓ of 1 bunch of cilantro. Add ½ a jalapeno (more for more spice) and the mayo.
8
Add some seasoned salt and pepper, to taste . Blend until completely smooth and adjust to taste. Whisk or blend in ½ cup of the sour cream.
10
Place lettuce on the bottom of 6-8 bowls, then dish out the rice evenly among the bowls. Divide the drained and rinsed corn + black beans evenly among the bowls as well. Top each bowl with some cilantro, pico de gallo, guacamole, and sour cream. Drizzle the dressing over the top.
OurKindofWonderful