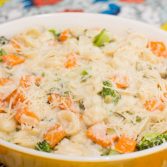 Creamy Parmesan Orecchiette with Butternut Squash and Broccoli
I love pasta, so, so, so much, but soo many pasta recipes taste the same, and that gets old fast. The butternut squash and broccoli compliment the pasta so well, and this whole recipe just comes together perfectly. I like a bit of a kick in my food, so you can add red pepper flakes as desired. You can also add more or less cloves and cinnamon to change the kick of your sauce.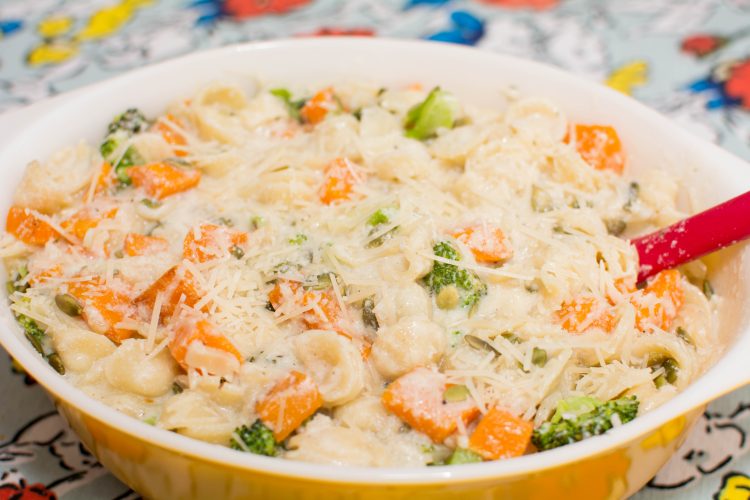 Ingredients
--Sauce--
3 Tbsp. butter
2 cloves garlic
1-2 tsp. thyme
3 Tbsp. flour
1/2 cup white cooking wine
2-3 cups milk
1/4 cup freshly grated Parmesan Cheese
lemon juice, to taste
salt, to taste
1/4 - 1/2 tsp. ground cloves
1/4 - 1/2 tsp. ground cinnamon
dash of ground ginger
dash of crushed red peppers
--Pasta--
16 oz. orecchiette
3 cubs cubed butternut squash
3 cups chopped broccoli
olive oil
pumpkin seeds
crushed red pepper flakes
1/4 - 1/2 cup Parmesan Cheese
Instructions
1
Sauce: Melt the butter over medium heat, once it's melted add the garlic and thyme and saute for 2-3 minutes. Add the flour and whisk until smooth - let it cook for a few minutes to combine. Add the wine and whisk to blend, then add the milk, ½ cup at a time, and whisk to incorporate. When thickened slightly, add more liquid. Add the cinnamon, cloves, ginger, and crushed red pepper. Finish with adding the Parmesan cheese, lemon juice, and salt to taste. Sauce should be smooth and light.
2
Veggies: Place the veggies on two separate baking sheets. Drizzle with a little olive oil and roast at 400 degrees for about 20-30 minutes, until tender but not falling apart.
3
Pasta: Cook the pasta according to package directions. Set aside.
4
Assembly: Toss everything together and top generously with pumpkin seeds, Parmesan cheese, and crushed red pepper flakes to taste.
OurKindofWonderful