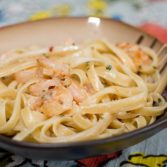 Crispy Cajun Shrimp Fettuccini
For someone that doesn't like seafood I sure cook it a lot, haha. But, A and K love it, and I don't feel like K shouldn't get seafood just because I don't like it, so I make many dishes that I won't even touch, haha. I do have salmon or tilapia once a month, as I'm slowly trying to get used to fish and kind of force myself to like it. So far, it's not really working.
This shrimp recipe is insanely fast – I actually made it while A ate her dinner, so that was a huge win for me. And, K says it's delicious, so you should probably try it.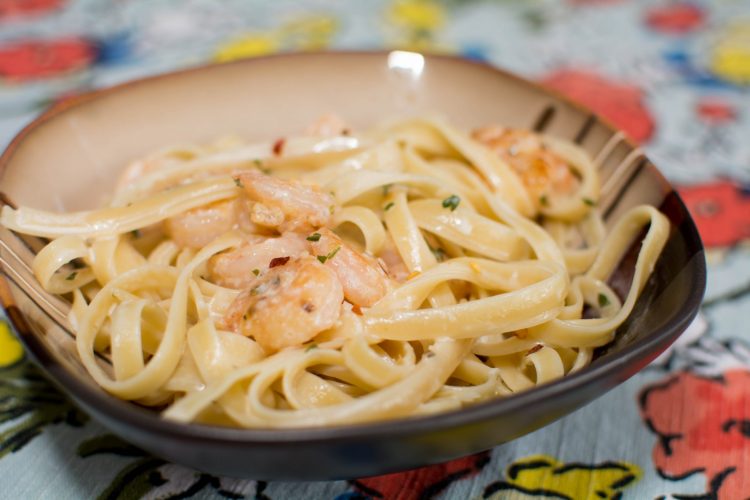 Ingredients
8 oz fettuccini, cooked according to package directions
1 lb. large shrimp, shell and tail removed
1 Tbsp. cajun seasoning
2 Tbsp. flour
2 Tbsp. butter
1 Tbsp. olive oil
1 cup low-sodium chicken broth
1 cup heavy cream
1/2 cup freshly grated Parmesan cheese
1 Tbsp. fresh parsley
Instructions
1
Cook fettuccini noodles according to package directions.
2
Sprinkle the shrimp with 1 Tbsp of cajun spice and toss well. Pour the flour over the shrimp and toss in a bowl, making sure each shrimp is covered in flour.
3
In a deep skillet add the butter and olive oil then heat over high heat. Add shrimp and cook on each side about 2 min, or until crisp. Remove shrimp from the skillet and set aside.
4
In the same skillet add the chicken broth and heavy cream. Season with additional cajun spice if desired. Bring to a boil, then add the Parmesan cheese and whisk to combine. Add fettuccine and shrimp back to the pot and toss.
5
Top with parsley and additional parmesan cheese, if desired.
OurKindofWonderful