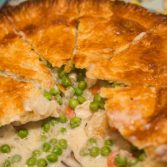 Homemade Chicken Pot Pie
Growing up the frozen chicken pot pies were a fast, easy meal, but I hated them. K enjoys Chicken Pot Pie, so, rather than buy the super cheap, nasty, frozen ones I decided to make my own. I found a recipe, tweaked it a bit, and we both love it. That's right, even I love it, and it's one meal that we love having left overs from! The crust and everything is homemade, but it really isn't very hard – you should definitely give this recipe a try.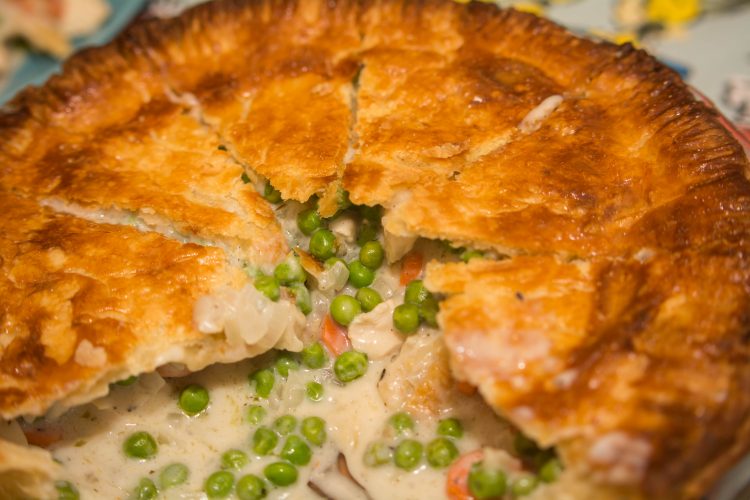 Ingredients
1 recipe homemade pie crust (below)
1 lb. boneless skinless chicken breast, cubed
1-2 cups sliced carrots
1/3 cup unsalted butter
1/3 cup chopped onion
1 tsp. minced garlic
1/3 cup flour
1 tsp. salt
1/2 tsp. black pepper
1/2 tsp. dried thyme
1 3/4 cups chicken broth
2/3 cup half and half
1 1/2 cups frozen peas
1 large egg, beaten
--Homemade Pie Crust--
2 1/2 cups flour
1 1/4 tsp. salt
6 Tbsp. unsalted butter, chilled and cubed
3/4 cup vegetable shortening
1/2 cup cold water
Instructions
2
Mix the flour and salt together, then add the butter and shortening.
3
Using a pastry cutter, cut the butter and shortening into the flour and salt mixture until it resembles coarse meal.
4
Drizzle the cold water into the flour mixture, 1 Tbsp at a time, and stir together with a wooden spoon after every Tbsp. Stop adding water when the dough begins to form large clumps.
5
Transfer the dough to a floured surface. using floured hands, fold the dough into itself until the flour is fully mixed in. Form the dough into a ball, then divide it in half wrap each half in plastic wrap. Refrigerate for 2 hours.
6
When rolling out the chilled pie dough be sure to be gentle, start from the center and work your way out in all directions, turning the dough as you go.
7
Proceed with your chicken pot pie recipe.
9
Prepare the pie crust as instructed above. The recipe makes 2 crusts, and you'll use both.
11
In a large saucepan combine the chicken and carrots. Add water then boil for 12 minutes. Drain and set aside.
12
In a large skillet, melt the butter, then add the onions and garlic, stirring occasionally. Cook just until the onions are translucent and butter is starting to brown, then whisk in the flour, salt, pepper, thyme, chicken broth, and half and half. Cook and whisk until not clumps remain, and simmer over medium-low heat for about 10 minutes. You want this to be thick like gravy, so you can simmer longer if needed.
13
After the pie dough has chilled take one half and roll out onto floured surface. Turn the dough as you rolls out so it rolls out evenly. You want a circle with a 12 inch diameter. Carefully place the dough into a 9-inch pie pan. Use your fingers to tuck the dough in, making sure it is smooth. With a small, sharp knife, trim the extra overhang of dough and discard. Place the chicken mixture on top. Top with frozen peas, then pour gravy over the top.
14
Roll out the 2nd half of the pie crust, just like you did the first. Top the pie with the second crust and trim the overhang off of the sides. Seal the edges by crimping with a fork or your fingers. Using a small, sharp knife slice a few small slits into the top crust.
15
Using a pastry brush, brush crust and edges with beaten egg.
16
Bake for 32-38 minutes, or until crust is golden brown. Cool for 10 minutes before serving.
17
Adapted from http://sallysbakingaddiction.com/2014/11/12/double-crust-chicken-pot-pie/
OurKindofWonderful