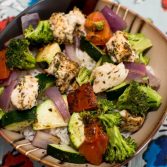 Italian Chicken Bowls
These Italian Chicken bowls are another fast, easy, and tasty meal that's perfect for work. They are so easy to meal prep, and are actually quite low in calories! The dish is super versatile, so ou could definitely use different veggies, or more or less of certain types as desired.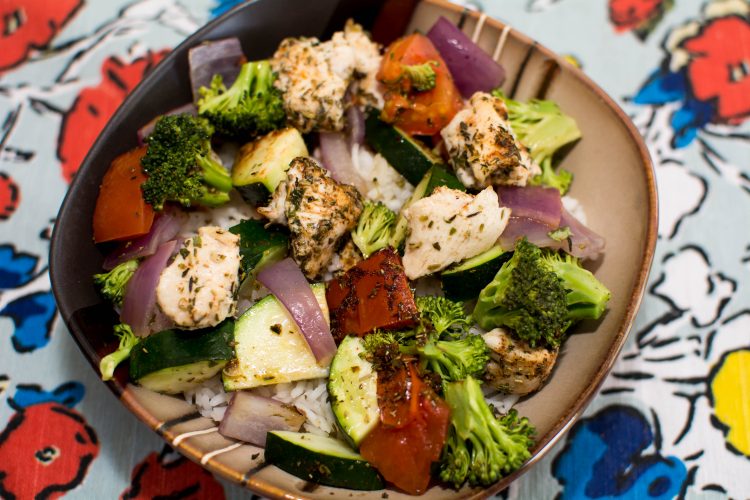 Ingredients
2 lbs. boneless, skinless, chicken breasts
1 1/2 cup broccoli florets
1 small red onion, chopped
1 cup plum tomatoes
2-3 medium zucchini, chopped
2 tsp. garlic, minced
1/2 tsp. pepper
2 tsp. basil
2 tsp. marjoram
2 tsp. rosemary
2 tsp. thyme
1 tsp. paprika
2 Tbsp. olive oil
4 cups cooked rice
Instructions
1
Preheat oven to 450 degrees. Line a large baking sheet with aluminum foil; set aside.
2
In a small mixing bowl combine all of the spices: salt, pepper, basil, marjoram, rosemary, thyme, and paprika.
3
Place the chicken and veggies on the baking sheet. Sprinkle evenly with all the spices and minced garlic. Drizzle with the olive oil
4
Bake for 15-20 minutes until chicken is cooked, and veggies are slightly charred.
5
Serve on top of rice - enjoy!
6
Recipe by: http://www.eazypeazymealz.com/italian-chicken-meal-prep-bowls/
OurKindofWonderful