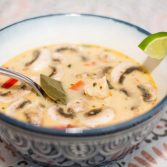 Chicken & Mushroom Coconut Soup
I won't even pretend that I tried this soup, I hate mushrooms, but K loved it! And, A got to try some fresh mushrooms and as gross as I think they are, she enjoyed them. I'm trying really hard to expose her to lots of different foods so she isn't a picky eater – she likes fish, mushroom, cucumbers, chicken, crackers, pretty much everything. She only hates chunky fruit in yogurt, but likes fruit outside of that.
But yeah, if you like mushrooms, and Thai food, you should give this soup a try. It's crazy easy and fast, and K says it's delicious.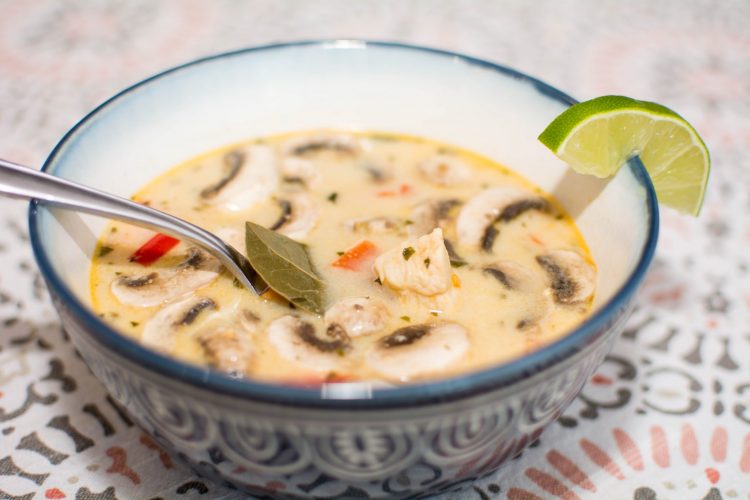 Ingredients
1 Tbsp. coconut oil
1 Tbsp. Thai red chili paste
1/2 tsp. red pepper flakes
2 tsp. minced garlic
1 lb. chicken breasts, tenderized and cut into bite size pieces
4 cups chicken stock
3 bay leaves
1 tsp. ginger
1 tsp. dried basil
1/4 tsp. pepper
1 can coconut milk
2 Tbsp. Thai fish sauce
2 Tbsp. brown sugar
1/4 cup lime juice
8 oz. mushrooms, sliced
1 red bell pepper, chopped
Sriracha/hot sauce, to taste
Instructions
1
Grab a soup pot. Heat 1 Tbsp. coconut oil over medium high heat, then add in the red chili paste, red pepper flakes, garlic, and saute for 30 seconds.
2
Add the chicken, continuing to saute until the chicken is opaque, but not quite cooked all of the way through.
3
Add in the chicken stock, bay leaves, ginger, basil, and pepper and bring to a boil. Lower heat to medium low, then cover and let simmer for roughly 10 minutes.
4
Stir in the coconut milk, fish sauce, sugar, lime juice, mushrooms, and red bell pepper. Simmer for a couple of minutes so the peppers are crips and tender.
5
When ready to serve remove the bay leaves and add sriracha and more lime juice to taste.
6
Recipe adapted from: http://carlsbadcravings.com/tom-kha-gai-thai-chicken-coconut-soup/
OurKindofWonderful