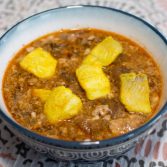 Kerala Fish Curry
Fish curry was one of the dishes that K really wanted to try, so we did. We, being K, I just helped prepare it and watched him eat it. He said it was really good, and would love to have it again. And, it's super colorful and pretty, so that's a win. If you like fish, and Indian food, you should give this a try.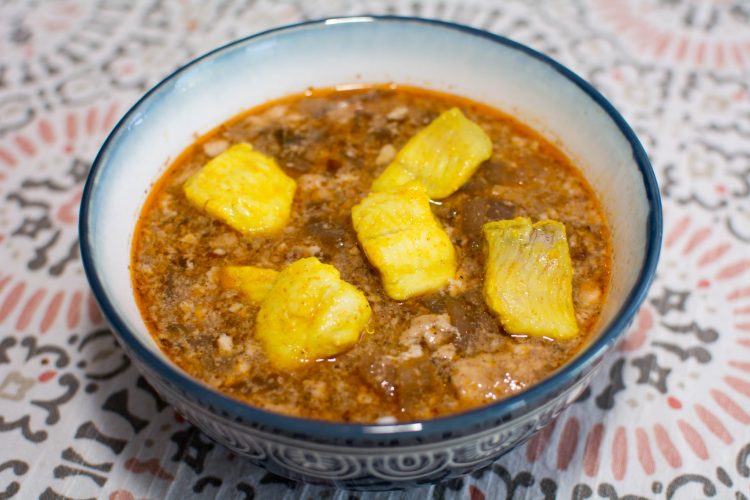 Ingredients
--Masala Paste--
3 cloves garlic, minced
1/4 tsp. ground cloves
1 tsp. ground cinnamon
2 tsp. ground fennel seeds
2 tsp. ground Indian red chile
2 Tbsp. ground coriander
1 tsp. ground black pepper
1 1/2 tsp. salt
1/2 cup water
--Curry Base--
1 Tbsp. oil
2 medium onions, sliced thin
2-3 serrano chiles, sliced thin
1 (1 -inch) piece fresh ginger, peeled and julienned
10-12 kari leaves
2 (15 oz) cans coconut milk
1/2 cup water
--Fish--
1.5 lbs. mild white fish fillets, such as red snapper, tilapia, or thin fillets of halibut
juice of 2 lemons
1 tsp. turmeric
1/2 tsp. salt
2-3 Tbsp. canola oil
3-4 cups of cooked rice
Instructions
1
Turn the slow cooker to hight for 15 minutes, so the insert is warmed through.
2
In a bowl, mix together the ingredients for the masala paste until combined, then set aside.
3
Heat the oil in a skillet over high heat, then add the onions, chiles, ginger, and kari leaves and fry for 2 minutes, until the onions are just soft. Transfer to the slow cooker.
4
Add the masala paste and stir in the coconut milk, along with 1/2 cup of water to the slow cooker.
5
Cook for 2.5 hours on low.
6
Trim and cut the fish into 2-inch pieces. In a bowl combine the lemon juice, turmeric, and salt and mix in the fish - coat well. Let stand for 20 minutes.
7
Drain the marinate from the fish. Heat the oil in a skillet over medium-high heat. Working a few pieces at a time, fry the fish for 1-2 minutes on each side, until the edges are lightly browned.
8
Transfer the fish with a slotted spoon to a paper towel and set aside. Once the fish is all sauteed carefully transfer the pieces to the hot curry and simmer for another minute or more, depending on the thickness of the fish. Serve hot, on top of rice.
OurKindofWonderful