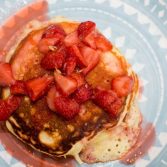 Lemon Pancakes with Homemade Strawberry Syrup
Pancakes are pretty much just a go to breakfast, but K and I have never been big fans of them. So, it's been my goal to try out new pancake recipes over the last few months, then to share our favorites! I'm excited to say that we're finding some winners! We love the blend of lemon and strawberry in this recipe – this recipe has become a summer go to. And, A loves it too, which is always a huge plus.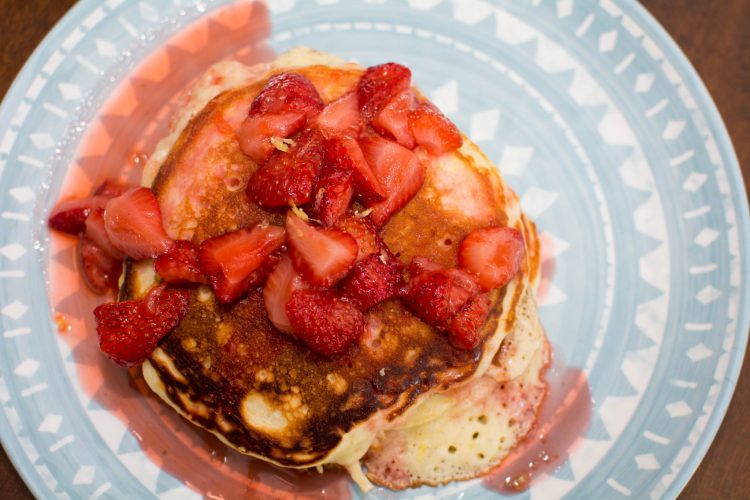 Ingredients
--Pancakes--
1 1/2 cups all purpose flour
2 heaping tsp. baking powder
1/4 cup granulated sugar
3 eggs
1 1/2 cups milk
3 Tbsp. melted, cooled, butter
1 large lemon, zested and juiced
1/2 tsp. vanilla
--Syrup--
3 cups strawberries, pits removed, and cut into chunks
1/2 - 3/4 cup granulated sugar
2 Tbsp. lemon juice
3 Tbsp. water
Instructions
1
Grab a medium size bowl, whisk the eggs, then stir in the milk, vanilla, cooled butter, lemon zest, and lemon juice.
2
In a separate bowl whisk together the flour, baking powder, and sugar until combined. Pour the wet ingredients over the dry ingredients and gently stir just until combined. The batter will be a bit lumpy, which is totally fine.
3
Heat a large skillet or griddle on medium-low heat and melt butter or vegetable oil in the skillet. Pour batter in about 1/4 cup portions onto the hot skillet and cook until small bubbles start to form on the surface; about 1-2 minutes. Flip pancakes and cook for about 1 minute more. Serve hot with powdered sugar or fresh strawberry syrup.
4
For the Syrup: Combine all ingredients in a small saucepan over medium-low heat. Cook, stirring often, until strawberries are soft. Remove from heat and cool slightly. Taste and adjust sugar as desired. Sauce will thicken as it sits. Serve warm.
OurKindofWonderful