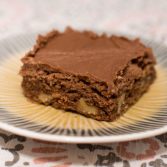 Mom's Brownies
These are the brownies I grew up with, that everyone always requested my mom to make. These are her version of my grandpa's brownies. He used to keep brownie scraps in the freezer for us when we'd come to visit, and we'd eat them so fast. They were AMAZING. He'd also make a fresh batch and sneak them to us, and his recipe is still served at my uncle's wedding reception venue to this day. These brownies always make me think of my family, and bring back memories of when I was a kid, so they're pretty special for me. Hopefully I can have something I make for my kids that can do the same for them.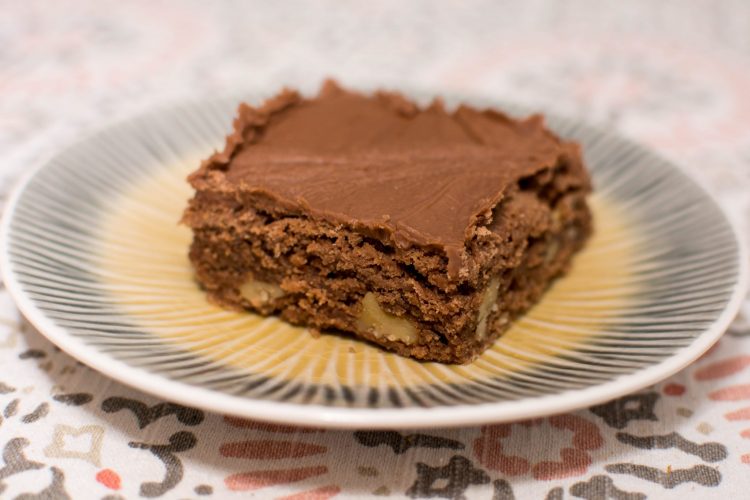 Ingredients
1 cup + 2 Tbsp. shortening
2 squares Baker's unsweetened chocolate
5 eggs
2 1/4 cups sugar
2 tsp. vanilla
1 tsp. salt
1 cup chopped walnuts
2+ cups flour, sifted
--Frosting--
6 Tbsp. butter, softened
3 cups powdered sugar
2 Tbsp. cocoa
3 Tbsp. hot milk or water
1 - 1/2 tsp. vanilla
Instructions
2
Preheat the oven to 350 degrees.
3
Melt the shortening and baker's chocolate in the microwave for approximately 4 minutes on defrost.
4
Mix the eggs, sugar, vanilla and salt, then add the melted chocolate and shortening . Mix well.
5
Add in the chopped walnuts and flour; mix well.
6
Spread the mixtures into a greased and floured "brownie" pan (a metal baking dish). Bake at 350 degrees for approximately 30 minutes. Let cool, then frost.
8
Combine butter, powdered sugar, and cocoa; mix well. Heat milk and vanilla in the microwave until hot. Add to the mixtures. Beat until smooth, then frost the brownies.
OurKindofWonderful