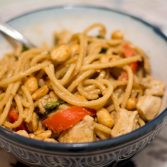 Peanut Sesame Noodles
These Peanut Sesame Noodles are great! The first night the peanut butter flavor was way, way too strong, but the next day it was absolutely perfect! We kept the mushrooms big enough that I could pick out, but small enough that they weren't super in your face so K could enjoy them being mixed in. We will definitely be making this again. Oh, and it reheats great, which is a must for recipes for us.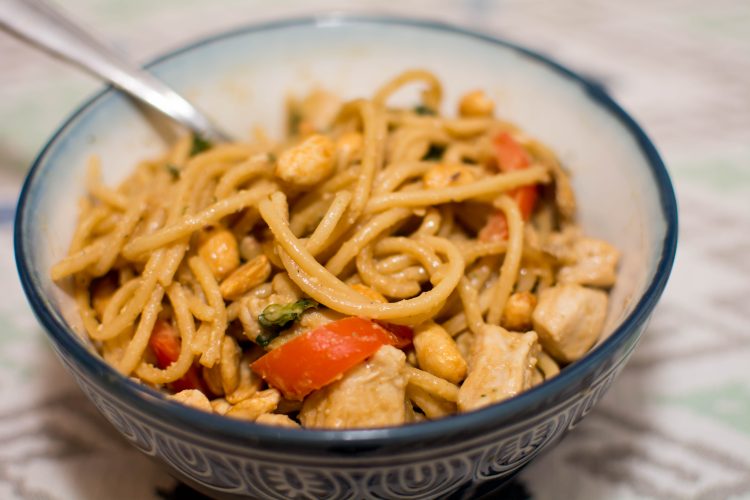 Ingredients
2-3 chicken breasts, cut thin
12 oz. thin spaghetti noodles
1 Tbsp. toasted sesame oil
4 oz. shitake mushrooms, sliced and stems removed
1 red bell pepper, thinly sliced then halved
1 orange bell pepper, thinly sliced then halved
2 baby bok choy, chopped into thick slices
olive oil
--Peanut Sesame Sauce--
1/2 cup crunchy peanut butter
3 Tbsp. sesame seeds
1/3 cup reduced sodium soy sauce
1/3 cup brown sugar, packed
2 Tbsp. cooking sherry
1 Tbsp. rice vinegar
1 Tbsp. oyster sauce
3/4 tsp. ground ginger
4 cloves garlic, minced
1 tsp. sweet chili sauce
1 tsp. dry basil
1/2 tsp. black pepper
1/2 tsp. salt
1 cup hot water
--Garnish--
peanuts
sweet chili sauce
Instructions
1
Cook pasta al dente according to package directions. Drain pasta and toss with 1 tablespoon sesame oil. Set aside.
2
Meanwhile, add all of the Peanut Sesame Blender Sauce ingredients to your blender and blend until smooth (the soup setting on a Blendtec works great).
3
Heat 1 tablespoon olive oil in a large nonstick skillet over medium high heat. Add chicken and cook until completely cooked through, about 3 minutes. Set aside.
4
Add an additional 1 tablespoon olive oil to the now empty skillet and heat over medium high heat. Add mushrooms, and saute for 2 minutes. Add peppers and bok choy and stir fry for an additional 2 minutes or until peppers are crisp tender and bok choy has softened.
5
Add chicken back to the skillet along with pasta, Peanut Sesame Blender Sauce. Toss until noodles are evenly coated, adding additional water if needed to reach desired consistency.
6
Taste and add additional Asian Chili Sauce for spicier, rice vinegar for tangier or brown sugar for sweeter if desired. Garnish with peanuts and sweet chili sauce.
7
Recipe by: http://carlsbadcravings.com/peanut-sesame-noodles-recipe/
OurKindofWonderful