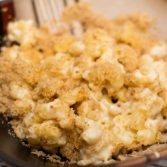 Homemade Mac & Cheese
Mac & Cheese is what was recommended to us to start A on solids with, and I wasn't a huge fan of giving her box mac & cheese right away. So, we found this recipe, and A LOVES it. I'm not even kidding, she eats more of this than any other food we give her, and is jabbering the whole time, which she normally doesn't do when eating. We even love it too. This recipe isn't too hard, and is so much better than what you get out of the box :].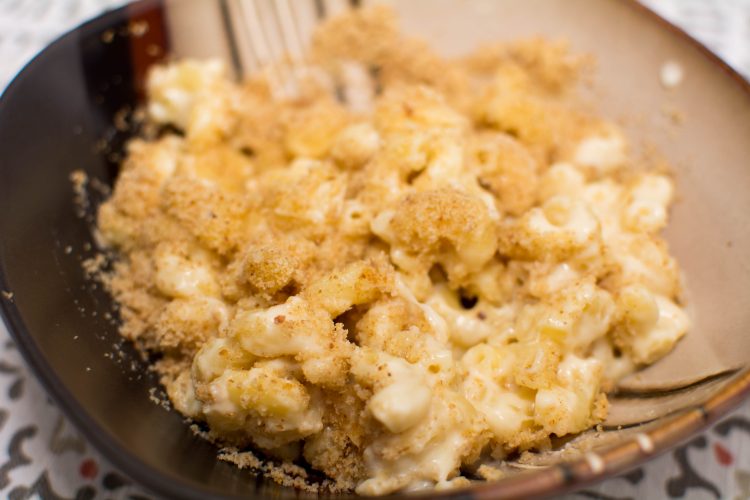 Ingredients
--Macaroni--
8 oz elbow pasta
2 tsp. olive oil
--Topping--
2/3 cup Panko bread crumbs
2 Tbsp. butter
--Sauce--
4 Tbsp. butter
1/3 cup all purpose flour
3 cups warmed milk
2 cups shredded cheddar cheese blend (buy in a block then shred by hand)
1 cup shredded mozzarella cheese (buy in a block, then shred by hand)
--Seasonings--
1 tsp. garlic powder
1/2 tsp. onion powder
1/2 tsp. mustard powder
Instructions
2
Bring a large pot of water to a boil, then cook according to package directions, only cooking for one minute less than it says.
3
Drain the pasta, then put the pasta back into the pot. Add the pasta, then gently toss to mix until melted. Set aside and let it cool while you make the sauce.
5
Mix together all of the topping ingredients; set aside.
7
Preheat your oven to 350 degrees.
8
Using a saucepan melt butter over medium heat. Once the butter is melted add the flour, then cook stirring so it doesn't burn, for 1 minute.
9
Add about 1 cup of the milk to the paste you just made. Mix until the paste has dissolved into the milk. Once it has add the remaining milk and continue to mix until there are no lumps.
11
Continue to cook while stirring regularly for 5-8 minutes, or until the sauce has thickened to a creamy consistency. Once the sauce is coating the back of your spoon and is thick enough that you could draw a path with your finger it's done.
12
Remove the sauce from the stove, then add the cheese while stirring. The cheese does not have to melt.
13
--Putting It All Together--
14
Combine your sauce with your macaroni, stir quickly, then pour into a baking dish. Sprinkle with the topping mix you made earlier.
15
Bake for 25 minutes or until the top is a light golden. Eat immediately.
16
Recipe adapted from: http://www.recipetineats.com/baked-mac-and-cheese/
OurKindofWonderful