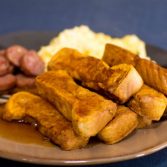 Pumpkin French Toast Sticks
We were really hesitant to try this recipe – usually pumpkin recipes are too pumpkiny, but not these! We loved the hint of pumpkin flavor, and them already being in strips made it simple for A to pick them up and eat them. These were definitely a fun change from our usual, boring french toast.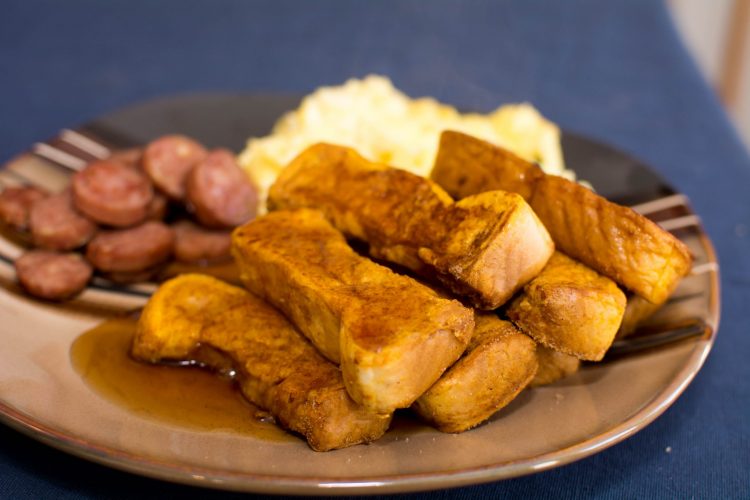 Ingredients
1 loaf of Texas Toast, cut into 1-2 inch wide strips.
4 eggs
2/3 cup milk
1/2 cup pumpkin puree
1 1/2 tsp. vanilla extract
1 tsp. ground cinnamon
1 tsp. pumpkin pie spice
1/4 cup sugar
1 1/2 tsp. ground cinnamon
butter, for cooking
Instructions
1
Melt some butter to a non stick skillet, over medium heat.
2
In a dish big enough to dip the bread into, whisk together the eggs, milk, pumpkin puree, vanilla, cinnamon, and pumpkin pie spice. Dip the bread into the mixture, soaking both sides.
3
Cook on the hot skillet until each side is golden brown, about 2-3 minutes per side. While it cooks grab a small bowl and combine the sugar and cinnamon; set aside.
4
Remove the cooked french toast sticks from the skillet and quickly roll in the cinnamon sugar mixture. Top with warm syrup and powdered sugar, if desired.
OurKindofWonderful