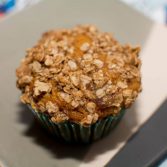 Pumpkin Cinnamon Muffins
We aren't huge pumpkin people. I know, what is wrong with us?! But seriously, when people go crazy over fall because of pumpkin flavored things we just kind of sit here wondering why? Then, we made these muffins. Oh….my….lanta – delicious! These muffins are some of our favorite muffins ever, and ones we definitely won't be making only in fall. If you make anything pumpkin this year, these should be it. And, I'll do you a favor right now and just tell you to double it. Seriously, you'll wish you had if you don't.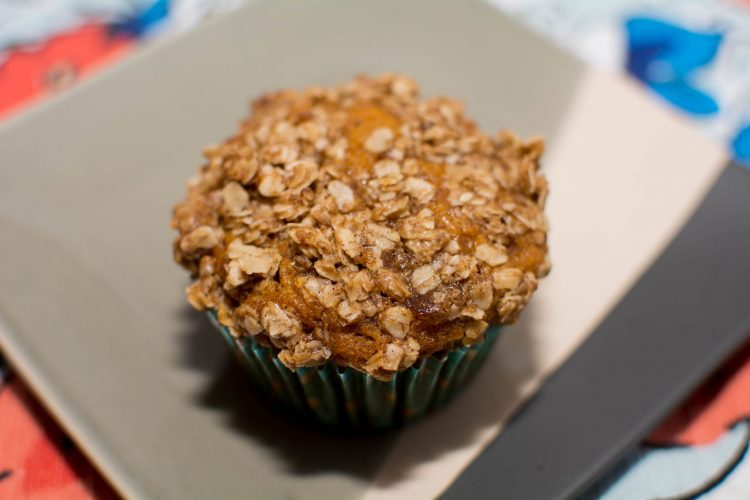 Ingredients
1-3/4 cups flour
1 tsp. baking soda
1/2 tsp. salt
1/2 Tbsp. cinnamon
1-1/2 tsp.nutmeg
1-1/2 cups sugar
1/2 cup canola oil
1/3 cup water
1 cup canned pumpkin
2 eggs
1 tsp. vanilla extract
--Topping--
1-1/4 cup oats
1 Tbsp. flour
1/3 cup brown sugar
1 tsp. cinnamon
dash of nutmeg
6 Tbsp. cold butter, cut into chunks
Instructions
1
Preheat the oven to 350 degrees. Line two muffin tins with muffin liners, or spray with cooking spray. Set aside.
2
In a medium size bowl, whisk together the flour, baking soda, salt, cinnamon, and nutmeg. Set the bowl aside.
3
Grab a large bowl, whisk together the sugar, oil, water, pumpkin, eggs, and vanilla extract. Whisk all the ingredients together until they're mixed well and smooth.
4
Slowly add the flour mixture to the large bowl. Mix until ingredients are all combined.
6
In a small bowl mix together the oats, flour, brown sugar, cinnamon, and nutmeg. Mix in the butter with your hands until the mixture is crumbly.
7
Fill the muffin cups 3/4 full, then top with the topping you just made.
8
Bake for 20-25 minutes, or until a toothpick comes out clean. Let cool completely before eating. Enjoy!
OurKindofWonderful